Julianstown Text Alert
2016
A reminder to all residents who are current members or who wish to subscribe to our local text alert scheme the membership for 2016 is now due for renewal.
The cost is €6 for up to 2 mobile phone numbers and is administered through the Duleek and District text alert scheme.Cheques made payable to: Duleek & District Text Alert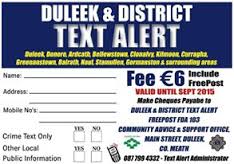 Text Alert News
JULIANSTOWN TEXT ALERT OFFICIALLY WENT LIVE AT 8.20 AM on the 11th March, 2015
Julianstown & District Text Alert Launch Meeting took place last night in the Church of Ireland Parish Rooms, and what a turnout we had! Many thanks to the subcommittee - Pat Cunningham, Jackie O'Shea, Donal Black, and Niamh Ui Loinsigh who have got it up and running. Many thanks also to those who signed everyone up on the night. The Text Alert Noticies will be administered by our Duleek Neighbours, namely Cllr. Sharon Keoghan and Michelle. They will also provide the Text Alert Signs which will be put up around the village and neighbourhood. Sgt. Trevor Dooley gave us a talk on how Text Alert works, Pat Cunningham filled us in on the areas covered and Sharon Keoghon told us how the Duleek Text Alert works and then we had a question and answer time. We also had Cllr. Sharon Tolan and Cllr. Eimear Ferguson with us on the night to show their support of this Community Initiative.
It covers the following areas:
Village of Julianstown
North As far as South Gate
South as far as Richardstown - bordering on Gormanston including Mosney, Briarleas, Corballis, and Seafield back up to Pigeon House Lane and Ballygarth Road
East as far as Sonairte and round by Minninstown and Pilltown Road.
West going up Moorchurch Road, Duleek Road, Shallon, Cooper Hill.
The cost to Join Text Alert will be €10 per family per annum.
Should you wish to sign up please contact Niamh on 086 347283 or Jackie on 087 6579884.
You can also contact us using the form attached.
We thank the people of Julianstown and the surrounding district for their continued support of our efforts in making our community a safer place to live.
What is Community Alert?
Community Alert is a community safety programme for rural areas with an emphasis on older and vulnerable people. It operates as a partnership between the community, An Garda Síochána and Muintir na Tíre. It works on the principle of shared responsibility for crime prevention and reduction.
What are the Aims of the Community Alert Programme?
To foster the process of community development

To reduce opportunities for crimes to occur

To unite communities in a

spirit

of neighbourliness and community service

To devise programmes to improve the quality of life for all in rural communities
How do I set up a Community Alert Group?
To set up a group in your area, contact your local Garda Station or your local the Muintir na Tíre Community Alert Development Officer (Tel: 062-51163 or view a list of Development Officers). The group may be set up in response to community demand or as a result of Garda contact. It is important to canvass local residents with a view to securing their support and involvement before introducing a group in the area.
What are the different roles in a Community Alert Group?
Normally these would include:-
Community Alert Committee -

Manages the Group and should comprise a community member from each townland within the group.

Community Alert Area Coordinator -

The Coordinator is appointed or elected by the Community Alert Committee and will maintain

close

contact with the Liaison Garda.

Community Alert Member -

Community Alert will work successfully with the active input of all members. Your actions and support will ensure its success. Don't leave it to others!
What is the Garda Input into Community Alert Schemes?
While Community Alert is a partnership programme between An Garda Síochána and Muintir na Tíre, An Garda Síochána will give an added commitment at every level to promote and support the establishment and operation of Community Alert groups.
We will include Community Alert in District and Divisional Annual Policing Plans with performance indicators to realise the full potential of this partnership programme.

All resource material (booklets, window stickers, survey forms and associated

administration

forms) will be provided by An Garda Síochána along with appropriate promotion material.

An Garda Síochána is committed to a further national review of Community Alert in 2011

Senior Garda managers, in consultation with the relevant Community Alert Development Officer, will establish District and Divisional Community Alert Committees.