Congratulations to Julianstown Village on achieving Gold Medal Award for 2019 in the Meath County Council Anti Litter Initiative and many thanks to all the volunteers who helped make this possible.
Congratulations to Anney View, Castle Grove, Ballygarth Manor and Preston Park in getting in excess of 95 points out of 100 over the 8 week period.
The 2 Gold Medals have been placed around - have you spotted them yet?
PRIDE OF PLACE ANTI LITTER INITIATIVE TOOK PLACE DURING THE MONTHS OF MARCH AND APRIL 2019
JULIANSTOWN WAS ONCE AGAIN DELIGHTED TO HAVE WON A GOLD AWARD. Much thanks must go to Mary Logue who does a regular daily walk around the village and picks up litter as she goes along. There are some mornings when she could fill a black refuse bag to the brim, especially after the weekend! It is a shame that so many people passing through our village, think nothing of throwing rubbish from their cars. We had a great turnout for National Spring Clean Day on April 8th and we even filled a skip (Thanks to Meath Co. Co. for it) after cleaning up all the back roads. Job Well Done All!!! Thanks also to the Lime Kiln who very kindly sent us a sample of different breads from their newly opened bakery, which is a great addition to the village. A Shop at long last in the village!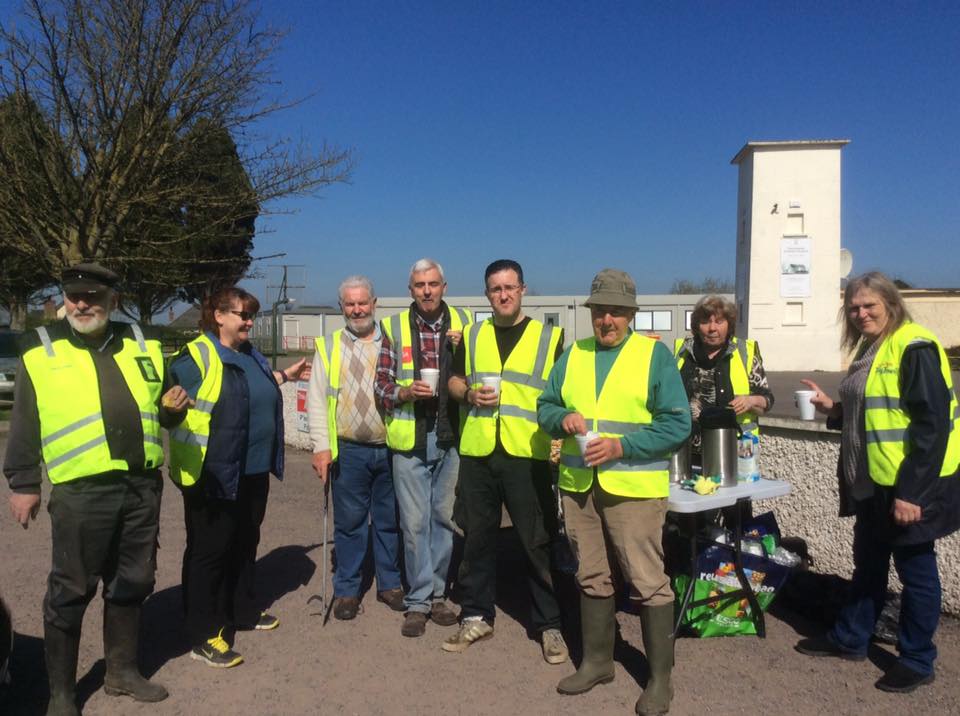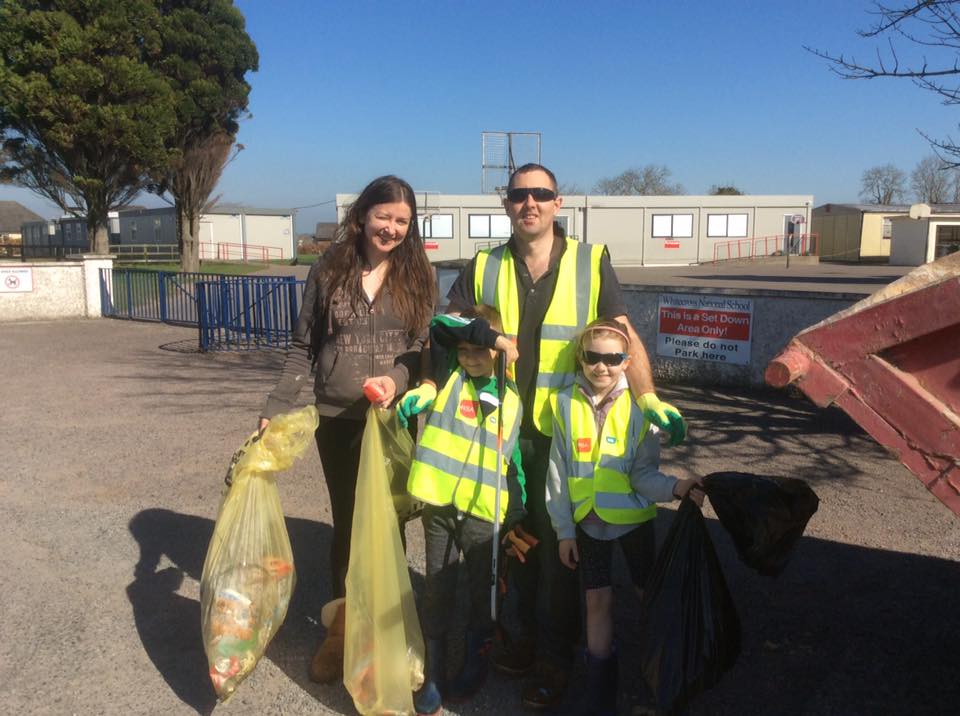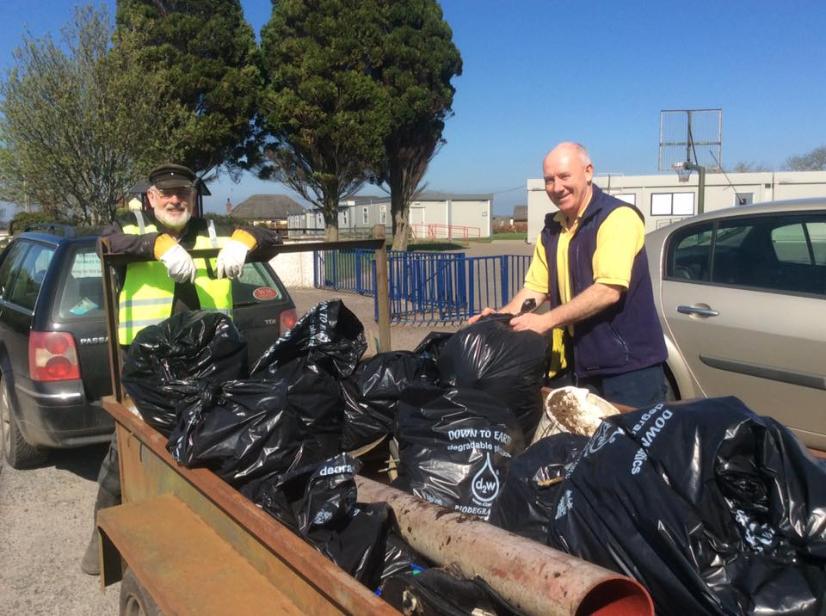 The National SuperValu Tidy Towns Conference takes place this year in the three times winning town of Westport, Co. Mayo. Members of Julianstown TidyTowns Committee will be in attendance. This is a great opportunity to see what other towns and villages are doing for Tidy Towns and Dermot Bannon (RTE Room to Improve) will be on hand to introduce the proceedings.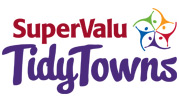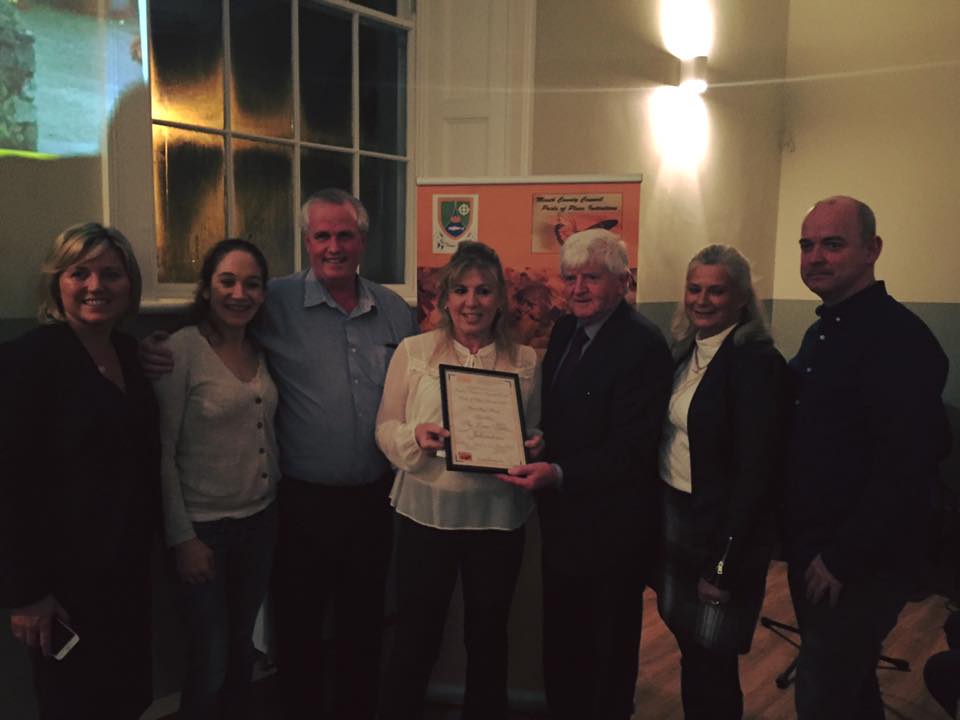 Julianstown's Tidy Towns Committee were well and truly delighted to have won an award for Best Approach Road in the recent Meath Pride of Place Awards.
The Lime Kiln picked up 'The Best Shop Front' award and John Macken must be thrilled that all the early morning watering of his flowers really paid off. (He was out there one morning at 5 a.m.!)
Jackie O'Shea Meath Volunteer of the Year
Jackie O'Shea won the Volunteer of the Year Award and if ever a lady deserves it, Jackie really does. I'm sure you have all noticed her out and about the village weeding, planting, clipping etc. Well done Jackie! That's Jackie in the centre with Dorothy and Clare.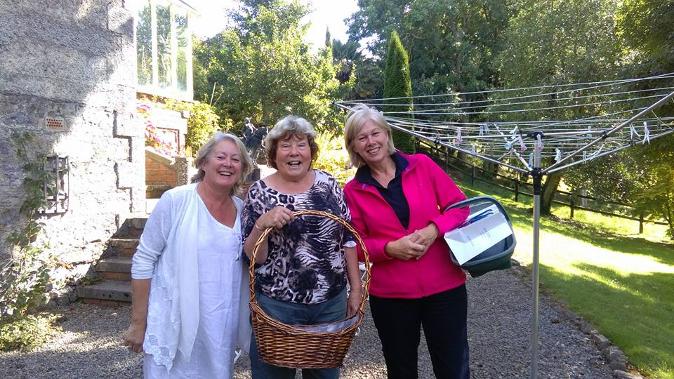 Meath County Council Pride of Place in Julianstown during August!
We are awaiting the arrival of the Meath County Council judge for the annual Pride of Place Competition and we are once again appealing to all our local residents to make a huge final effort to make sure our whole village and housing estates look at their very best.
The village judging will take place on Wednesday 10th August so please come out and help out in any way possible, we will be out working around the village before this, so please do come along and on any Saturday morning to lend a hand. We are also planning an evening strimming event on Thursday 4th August at 7 pm so please keep an eye out on Facebook. www.facebook.com/Julianstown-Tidy-Towns-Group
2016
We are delighted to tell you that this year for
Meath County Council's Anti Litter Initiative
Julianstown Village won the Gold Medal
The following housing estates also took part
Aney view - Scores 98 and 98
Old Laytown Road/Hillcrest 98 &97
Castlegrove Scores 94 & 93
Despite some inclement weather, St. Patrick's Day's celebrations and Easter commemorations, Meath County Council's Judges found that most entrants had done trojan work and in some instances, there was no litter visible whatsoever. So well done, Volunteers. You are half way there and as the weather improves, we look forward to seeing our County looking well as the Summer approaches.
An Taisce National Spring Clean 2016
Our Annual Spring Clean took place on Saturday 16th April and we thank our many volunteers who came along and cleaned up the roads around Julianstown. It was a great community event! Thanks also to An Taisce and Meath Co. Co. for supply skip, gloves, bags and litter pickers and judging by the full skip they were definitely put to good use! Did you notice that the Council Gateway Workers cut back the hedging and cleaned the path opposite the Lime Kiln? It now looks great!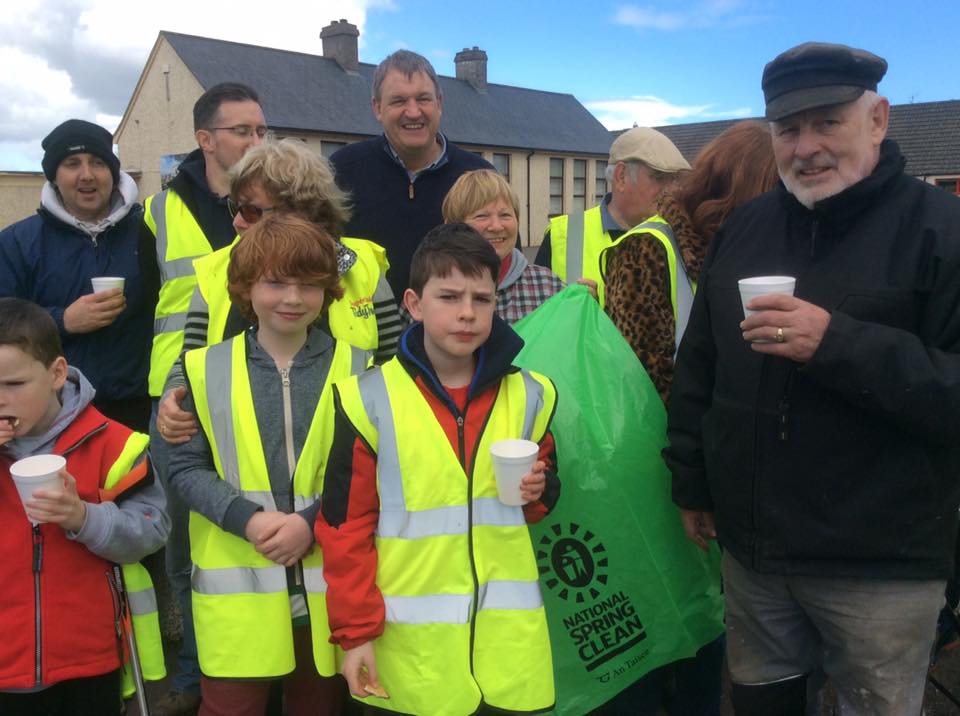 Our Tidy Towns Committee is once again entering our village in for the National Tidy Towns and Meath Co. Co. Pride of Place Awards. There is a lot of work such as planting and weeding to be done, so if you have an hour or so to spare any Tuesday, Thursday or Saturday, please come along and give a hand. As they say "Your village needs you"
Salesforce We were delighted to have this large group from Salesforce come along and help out with projects in our Community Garden. They arrived early in the morning and got stuck right in! They painted our new shed and fencing, and then moved a few ton of soil, stones, sand and bark! While this was being done, Tom was busy putting in some paving stones around the shed. Well done all and hope to see you again in September! Many thanks to them all and to Salesforce, Sandymount.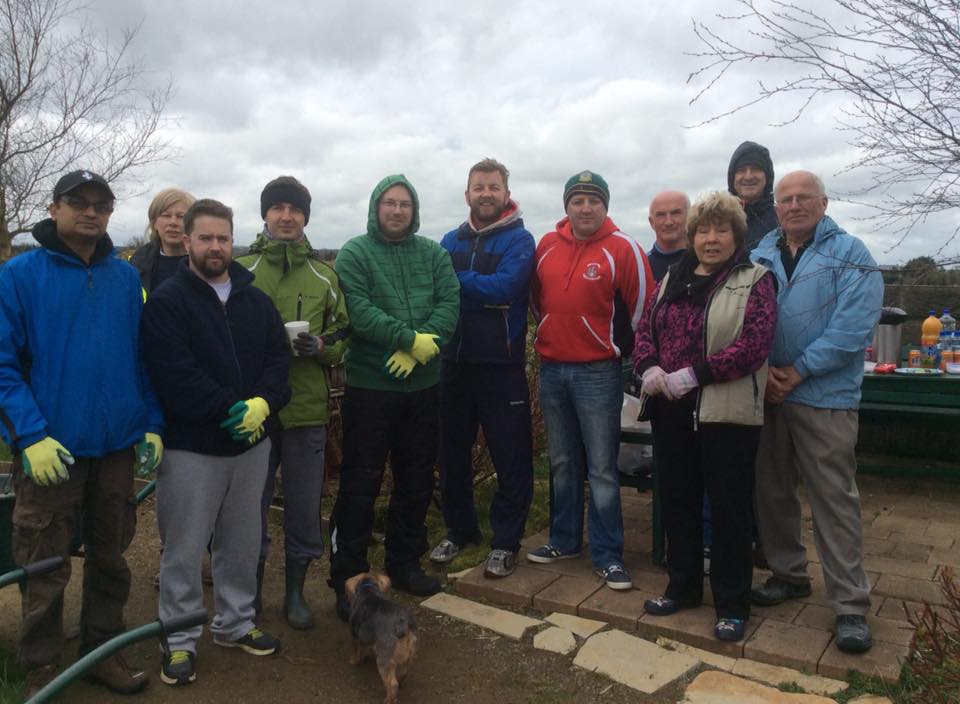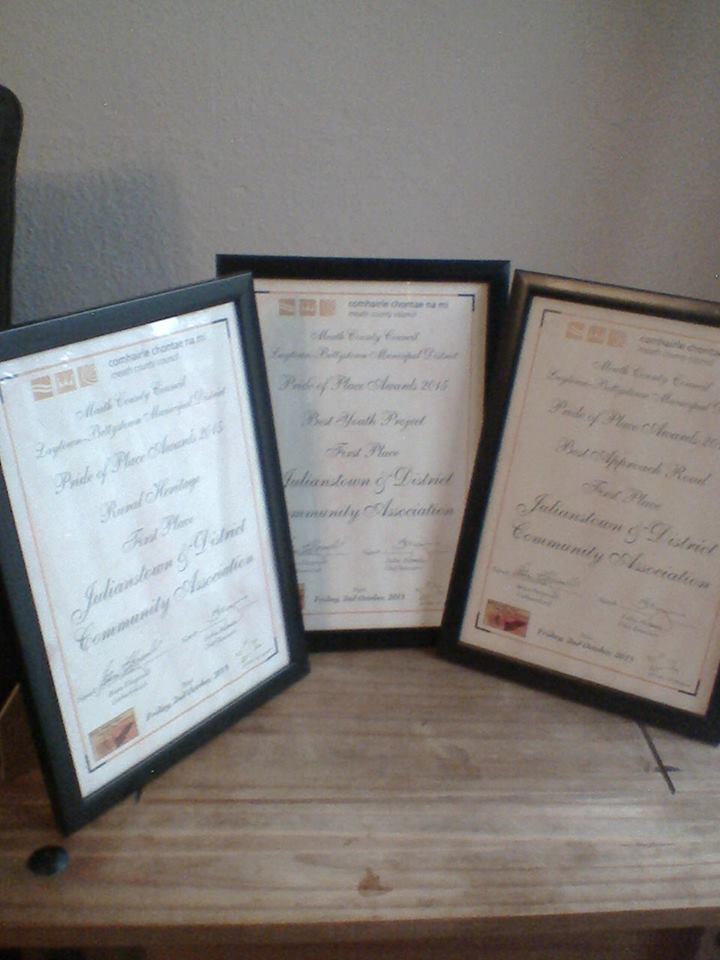 Julianstown Tidy Towns were thrilled to be awarded Best Approach Road, Best Heritage Project and Best Youth Project in the Meath County Council Laytown/Bettystown Municipal Awards in October, 2015. All the winners of each six Municipal Areas in Meath were then invited to The Newgrange Hotel in Navan for the overall county Pride of Place Awards and once again Julianstown won lst Prize for Best Approach Road and 3rd Prize for Julianstown village. It was wonderful to have all the hard work which our many volunteers helped with throughout the year.
You may remember we started off the year with a big clean up of our woods at Whitecross and it is now a wonderful amenity for all to use and then each class in Whitecross National School spent several weeks coming into the woods. Some hugged the trees and talked to them, other wrote some beautiful poems about the trees and some drew some lovely drawings of the trees. These trees are over 200 years old and it is nice to see them being cared for.
Next came the Anti Litter League and National Spring Clean. Once again our volunteers got busy and we again won First Prize for our efforts and also won best community effort for the cleanliness in our village. A special word of praise must go to Mary L. who was out every weekday picking up litter throughout the village.
We then got busy weeding and planting for the National Tidy Towns Competition and once again increased our marks! McLysaghts Nurseries did a splendid job replanting the planters in the village and the gave a lovely colourful display throughout the year. The Lime Kiln went to town on its flowers and Rose Cottage across the road from the Kiln has got a lovely makeover. The judge was very complementary about our village and I suppose the fly in the ointment is still the Old Mill Hotel!
In between all this we had a Teddy Bear's picnic in the Community Garden. This was a glorious sunny day and our puppeteer had the children enthralled and what a super obstacle course we had! While the children were being entertained mums and dads could sit back and relax and enjoy a nice cuppa and bun!
We also had the Cooleswan Afternoon Tea in City North which was attended by about 100 people and all there enjoyed the pastries, buns and sandwiches, as well as a few samples of that gorgeous Coole Swan Liqueur ! Many thanks to Mary Sadlier of Cooleswan for sponsoring this for us. Later on we had our first ever Ladies Lunch in the Glenside Hotel and this was well attended! The food and company were superb and we hope to run this again in the New Year.
Then came Halloween and what can I say? It was such a success, we had over 700 there! Our bonfire was Super and was well looked after by Jim, Stephen and Tom. Many thanks to Robert for all the pallets! We had Clare, Karen, Mary, Eileen busy making hot dogs, serving soup, teas and coffee! Regina and Mary Lou did a great job with the toasted marshmallows while the children played games with apples! How they enjoyed putting their faces into the water while trying to catch an apple, or trying to bite them off the long strings! The garden looked real scary and many thanks to Kennedys Pumpkin Patch for all the pumpkins. They looked a treat, all lined up, when you were coming into the garden.
We rounded things off with a visit from Santa, Mrs. Claus, and his elves at the Lime Kiln.
First we sang Christmas Carols around the Christmas tree and it was lovely to have Sarah there with her guitar! All the boys and girls, mums and dads all joined in and made it a very festive occasion.
Santa and Mrs. Claus arrived in style in a little vintage red tractor which farmer Stephen expertly maneuvered into the car park! Santa had left Rudolf and his reindeer in farmer Stephen's barn to have a rest before their big day! What a great turnout there was, it was wonderful to see so many boys and girls all eagerly awaiting Santa. Santa was very sweet and gave a little gift to all the children and had many photos taken with the children. Meanwhile all the mums and dads enjoyed Mulled Wine and Mince Pies! Thanks to the staff and owners of the Lime Kiln and also to Julianstown Tidy Towns committee for really getting into the spirit and making this such a special occasions for all our younger folk. What wonderful memories they will have!
I have to really thank each and everyone of our volunteers. Without you all of the above would not be possible! It is fantastic that you give up your free time to give a hand, make a difference, and also be very proud of the village (JULIANSTOWN) that you live in.
Well done all!
Niamh Bn. Uí Loinsigh
Chairperson
Julianstown & District Community Association
December 2015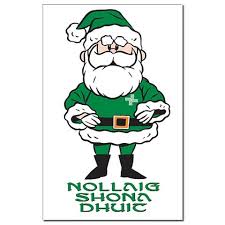 Meath County Council Anti Litter initiative 2015 takes place for the months of March and April and during these 8 weeks we aim, with your help, to keep Julianstown Litter Free! Should you require gloves, bags etc, please contact Niamh on 086 3477283. This is a great opportunity to showcase Julianstown. If you know of any elderly people living near you, perhaps you could give them a hand to clean up outside their premises.
1st April, 2015 - Meath County Council announced the results for the lst round of this years Anti Litter Initiative and ..............
JULIANSTOWN VILLAGE - 96 Marks out of 100 and
ANNEY VIEW - 97 Marks out of 100
Thank you to everyone who has been out Litter Picking this past four weeks in the village. It really looks in great shape at the moment.
The Daffodils are super this year and many thanks to McCulloughs Farm and McLysaghts Nurseries
for donating all the daffolids.
Just another four Weeks to go
An Taisce National Spring Clean - Julianstown will be hold National Spring Clean Day on .Saturday 11th April. On that day we ask that everyone come out and give a hand to clean up all the outlying roads around the village. Meet at Whitecross National School at 9 a.m. where we will have a skip (provided by Meath County Council), and afterwards we will have tea/coffee for all. Our Village looks so much better when it is clean and we thank you for your help!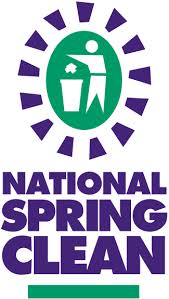 Plans for 2015 from Julianstown Tidy Towns group:
• Meet every Saturday morning in Village Garden @1030 a.m. for planting & weeding
Come along. We really could do with your help even for an hour!
• Meath Anti-Litter Initiative starts on lst March and continues for 8 weeks.
Do you need gloves and bags to clean up your area – we can supply them.
• National Spring Clean on 11th April
(meet at School @ 9 a.m.)
This involves cleaning up all the village and back roads.
Tidy Towns Competition 2014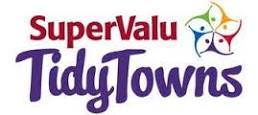 The national SuperValu TidyTowns competition is an annual competition organised by the Department of the Environment, Community and Local Government with the support of the main sponsor SuperValu and many other agencies.
Julianstown Tidy Towns group were very proud to represent Julianstown at these awards.
TREE PROJECT AWARD
Sponsored by Tree Council of Ireland
Joint Winners of €500 each
Dromod Village, Co Leitrim
Julianstown Tidy Towns Group, Co Meath
Adjudication Report
Centre:

Julianstown

Ref:

1217

County:

Meath

Mark:

277

Category:

B

Date(s):

22/06/2014

Maximum Mark

Mark Awarded

Community Involvement & Planning

60

44

Built Environment and Streetscape

50

31

Landscaping and Open Spaces

50

39

Wildlife, Habitats and Natural Amenities

50

32

Sustainable Waste and Resource Management

50

15

Tidiness and Litter Control

90

52

Residential Streets & Housing Areas

50

35

Approach Roads, Streets & Lanes

50

29

TOTAL MARK

450

277
Community Involvement & Planning / Rannpháirtíocht an Phobail & Pleanáil:
Julianstown and District Community Council is very welcome to the 2014 Tidy Towns Competition. Its division into various subcommittees with members working in areas related to their own particular skills is all to the good and can only be beneficial to you and your work! The fact that the Tidy Town's group fosters help from other members of the community also encourages a sense of pride in your village. The historical aspect of the village is one that you obviously –and rightly-highly value and respect. You have a good working relationship with the school, Meath county council, an Taisce and the Meath Partnership which is laudable. It was good to hear that you appreciate feedback from the local community. Congratulations on your achievements and awards in the Pride of Place competition and Meath County Council anti-litter league. Congratulations in your silver medal at the Liv Com awards in China. We noted you mention a village design statement-presumably this is a separate document to your 3 year plan and those submitted-possibly that written by the county council? If so, please enclose a copy with next year's submission.
Built Environment and Streetscape / An Timpeallacht Thógtha agus Sráid-dreacha:
The village of Julianstown looked very peaceful on a lovely summer's day. The rear of the abandoned hotel and old mill building is very dominant as one approaches the village. It looks very unfortunate with its dereliction and graffiti. Hopefully is an issue that will be resolved in the not too distant future-this should be done in a sensitive and appropriate manner. We noted that the owners are working with the Heritage Council and yourselves in this regard. The fact that Julianstown is situated in an architectural conservation area is good as it means that all these fine buildings stand a good chance of being maintained and restored. The village has a wealth of historical and architectural heritage at its doorstep. The erection of new signage was noted and appreciated. Little Joeys crèche looked fresh. The Gallops Bar and restaurant looked well despite it being abandoned! Although the rear boundary wall of the car park in this location could be painted and additional landscaping would help break up its impact as it is rather large. The freshly painted school and attractive planted tubs were admired as was the striking modern church with its large slate roof and older statuary. The charming St Mary's Church of Ireland was admired on the village outskirts.
Landscaping and Open Spaces / Tírdhreachú agus Spásanna Oscailte:
The Community Garden looked marvellous as a statement of intent on approach to Julianstown. Its ongoing maintenance is commendable. The new Irish wildflower bed at the Community Garden was noted and admired. The garden itself is magnificent with its fruit trees, vegetables, bug hotel, composting bin, rainwater recycling etc-a marvellous gem for the village! The planting of 70 mature trees on approach roads is a great idea, as is the naming of trees on same. The planting of geraniums etc at the main junction by the hotel was admired. The golf course looked immaculate and the black timber painted bench and planting opposite were admired.

Wildlife, Habitats and Natural Amenities / Fiadhúlra, Gnáthóga agus Taitneamhachtaí Nádúrtha:
Your work with the Education Officer in An Taisce in this regard was noted and the work with ecologist Dr Emma Reeves was also a good idea. The pond in the Community Garden will no doubt attract wildlife and improve bio diversity. The ongoing bat survey is commendable. We look forward to seeing the results of your allotment visit-do you plan to have some in your community garden? The Seomra Glas is a good idea, as is the Greenway from Laytown. Good luck with the future training seminars and workshops with An Taisce. We look forward to seeing the completion of your dovecote-what a wonderful idea!
Sustainable Waste and Resource Management / Bainistiú Acmhainní agus Dramhaíola Inbhuanaithe:
Your efforts at recycling and waste reduction are noted. The use of a community composter, the recycling of batteries and increase in e mail and texting to reduce waste paper are all to the good! Segregation of collected litter is commendable. We note your efforts to further improve this category and your visits to other entrants to see how they deal with this aspect of the competition. The questionnaire sent to parents of schoolchildren was an interesting idea. Your plans in relation to food foraging workshops, organic gardening and brown bins were all noted and sound very interesting. We look forward to seeing the bottle banks in place in the not too distant future! Presumably Sonairte have been helpful to you in this regard as they are so close by
Tidiness and Litter Control / Slachtmhaireacht agus Rialú Bruscair:
We appreciate the hard work involved in trying to maintain the village, given the large volume of traffic passing through. Congratulations on your silver award in the Meath Anti Litter League competition. The involvement of the local children in this regard is to be commended. Your work in relation to signage, the community garden and unsightly signage were noted.
Residential Streets & Housing Areas / Sráideanna Cónaithe & Ceantair Tithíochta:
The many housing estates of the village were generally well presented. The residents of Anny View, Preston Park, Preston View, Castle Grove and Hillcrest are all to be commended on their hard work to date. We were pleased to hear that you have a close working relationship with them. The terraced Swiss cottages are quite charming and most unusual. The whitewashed cottage by the school was admired. There are some marvellous gardens with big long verges outside on the roadway leading down to the church.
Approach Roads, Streets & Lanes / Bóithre Isteach, Sráideanna & Lánaí:
The approach from Bellewstown was good although the rear of the old mill has been mentioned elsewhere in this report. The Drogheda approach is an attractive one although the advertising hoardings create a negative impression. The traffic roars through the village at speed-have you looked into any traffic calming measure to counteract this problem?
Scenes from the Flea Market in Sage and Stone on 6th April where we were trying to raise funds for our summer bedding and cleaning up in the village and some of the flowers.