Halloween (Oíche Samhain) - Julianstown & District Community Association that our annual Halloween Festival will not take place on Sunday, 31st October, 2021 due to fears over Covid- 19 .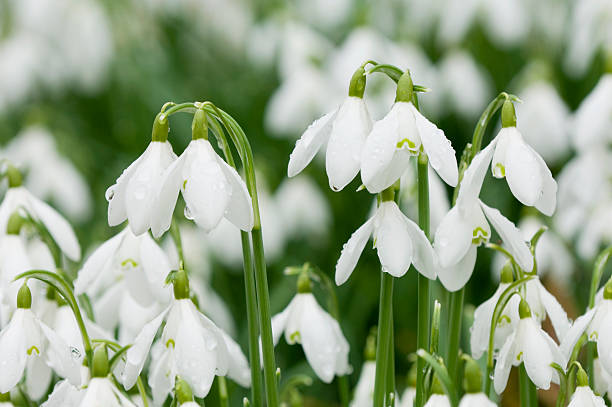 NEWS FROM JULIANSTOWN by Niamh Bn. Uí Loinsigh & Jackie O'Shea
SPRING - NOW WE DON'T want to get too excited about it, lest it disappears, but Spring arrived in Ireland on lst February. At long last after a long dreary winter of Covid-19 we will have long bright days and warmth to look forward to. Julianstown & District Community Association would like to take this opportunity to offer our best wishes to all who are hospitalized or ill at this time. We wish you a speedy return to health.
On the Gaelic calendar, spring or Earrach, spring starts on St Brigid's Day on February 1st , celebrating the end of winter.
Snowdrops
February, of course, is peak snowdrop season in Ireland, so if you fancy the idea of seeing these heritage Irish snowdrops in the flesh, then why not pay a visit to Julianstown Woods in the centre of the village and take a photo of them and maybe you could send the photo to Julianstown Tidy Towns Facebook Page for all to see. The National Tidy Towns is going to give €1,000 to our village and we are going to put most of it towards buying wildflower seeds and the necessary equipment to help plant them. You may remember all last summer we had some fabulous displays of wildflowers going up the hill in the village, at the woods and in Ballygarth Manor. They are so beautiful, give us so much pleasure and are vital for our bees, butterflies, and insects. Thank you Jim O'Connor!
In springtime, Ireland's landscape moves out of the winter shadows and becomes a technicolour canvas crowded with yellow daffodils, green fields and budding trees. Spring is around the corner, and time to sow seeds and think about our gardens and green spaces (especially in these dark COVID days). New wildflower beds and a brighter horizon.
If anyone has any old pictures of Julianstown, antidotes, stories, interesting notes we would like to compile them, help to be part of this project.
Would you believe our stunning Clock Tower was unveiled last February by Michael Ring, T.D. for Community and Rural Affaires? Together with the lights on the bridge they make a wonderful addition to our village. Recently the clock stopped due to a Power Outage, but Sean O'Neill came to the rescue and got it working again. Many thanks Sean.
Traffic – Once again we must address this subject which is of most importance to all our residents and travellers alike. We have been in touch with the Council on this matter and while progress is slow it looks like it could be late 2021 or even 2022 before work begins. Meanwhile our committee has been in touch with Fergus O'Dowd TD, and Imelda Munster TD, to intervene on our behalf and have also asked them to see if raised platforms can be put in place at the Pedestrian Crossings in the interim (like those at Donacarney and Laytown schools. The reason we are asking for this is that due to Covid-19 traffic has somewhat decreased, however, now we must deal with traffic that is speeding through the village, especially the HGVs. We have also asked them to look at the 'footpaths or lack of them' at the bridge and cottages. When they eventually carry out the traffic calming measures, we have also requested that they coordinate all the lighting in the village so that it is the same as that on the bridge and much more in keeping with the character of Julianstown Village.
Whitecross National School is accepting enrolments in all classes from Junior Infants to Fifth class. For further information please email whitecrossns@gmail.com or phone 041 9829229.
Community Call Helpline – 1800 808 809 (Freephone) 9am to 5 pm seven days a week. People over 70 and those who are vulnerable, can seek assistance if they need help accessing food, medicines, or essential supplies.
Mass Online St. Mary's Catholic Church – All public Masses have been suspended until further notice. Fr. Declan celebrates mass online every Sunday at 10.am.
Mass Online St. Mary's Church of Ireland - We continue with Sunday Services on line and in addition, there is a Compline on a Tuesday evening at 8 pm and morning prayer on Wednesday, Thursday and Friday mornings at 10.30 am. Please stay safe in these difficult times. Revd. Katharine Poulton.
A Concerned citizen wrote to us regarding the parking for our Senior Citizens at Laytown/Bettystown Beach
"It's great to see the new traffic calming the crossings and humps in Bettystown and Mornington, but they don't solve the problem of parking, for beach walkers, swimmers, and general beach activities, we know of a few elderly people who used to drive down on a nice afternoon and just sit and relax. The current parking facilities do not meet the needs, plus they are always full, and at high tide flooded and what happens when the new library is in situ?? Please MCC reconsider some parking on the left-hand side to allow locals to enjoy the beautiful beach, summer is fast approaching and fear an accident will happen because the cars parking along the road. Reconsider revenue for pay barriers properly installed".

Comments welcome from Laytown/Bettystown Beach Management Committee and our Councillors!
LMETB Courses
Louth Meath Education and Training Board have invited Applications from community groups and voluntary organisations for support regarding the delivery of educational programmes under LMETB's Community Education Programme for the Spring Term 2021. If any of their courses are of interest to you, please get in contact with the Secretary on 087 2729154. There are 69 courses to choose from on the LMETB's Spring offering under the headings Arts and Crafts, Sewing, Computers, Horticulture and DIY, Cookery, Health, Wellbeing and others. Check out their website for the list of courses on offer, and if interested in courses other than the ones mentioned above, please get in contact. A significant number of the courses can be delivered on-line, so they can be completed at home. We need names of interested people as soon as possible please.
Litter, Litter Everywhere. By Black Narcissus
There's litter, litter, litter, people throw it everywhere
it clogs up all the city streets and every thoroughfare,
there's burger bags and nub ends and the dregs of fish and chips
that pigeons eat for breakfast and it goes straight to their hips,
there's newspapers from yesterday now floating down the streets
and balances from ATM's and discarded receipts,
there's needles from the junkies that are dangerous for kids
and empty tins of everything that haven't got their lids,
there's bottles from the drinkers full of drunken, singing bees
I've even seen containers full of smelly, mouldy cheese.
Why can't they take it with them or just place it in a bin,
it should be in the bible ...... Dropping litter is a sin !
In response to requests by community groups and individuals around the county Meath County Council have created the Green Kilometre Scheme.
The scheme invites individuals/groups to choose approximately a kilometre (or longer) stretch of road/loop in their area. The group or individual would then commit to maintaining the chosen stretch over the course of the year.
The council can supply some native trees, litter pickers, bags and gloves to all those participating and if you wish we can arrange for an adviser (when restrictions allow) to visit to give advice in relation to planting, care of heritage features etc.
For more information and to download a participation form see https://bit.ly/2Ygc3Og.
The message from the Government of Ireland and Public Health Advisors is 'Stay at Home'. Due to the current restrictions.
Julianstown & District Community Association
regret that due to Coronavirus
the Annual Oíche Samhain (Halloween)
will not take place in the garden
on 31st October, 2020
If, however, you and your family would like to come along and decorate an area in the garden please feel free to do so. We would love to see Witches, Pumpkins, Black Cats, Ghosts and all types of scary things!
JULIANSTOWN ANNUAL SPRING CLEAN
Invitation to help clean your village
Saturday
4th April, 2020
Time
11 am to 1 pm
Where to Meet
Whitecross NS
Spring Clean is organized by Julianstown & District Community, together with An Taisce National Spring Clean and Meath County Council
Gloves, Litter Pickers, Hi Vis Vests, and Bags supplied by Council & An Taisce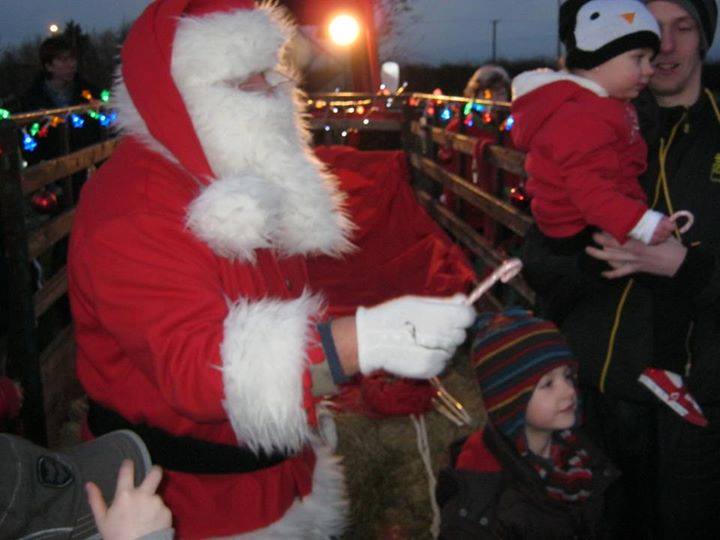 Santa, Mrs. Claus and his Elves will be calling to The Lime Kiln Julianstown at 6.30 pm next Tuesday, 11th December, 2018, to see all the boys and girls in the village and the chief Elf told me that Santa will have a little gift for the children. Santa had a word with head chef Robert Thompson and is going to cook some very special mince pies (recipe is top secret) washed down with yummy mulled wine for your mums and dads. Soft drinks for the children! The super Mornington Gospel Choir will bring Christmas cheer with their singing and we hope you join in! Monster raffle and admission is by donation which will go towards our summer projects for the village. Thanks to Julianstown & District Com. Association Committee and The Lime Kiln owners and staff for organizing this event for the children of our village.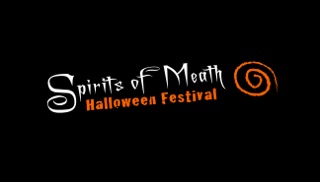 ARE YOU READY FOR A SCARY NIGHT OF CELEBRATIONS IN JULIANSTOWN VILLAGE GARDEN?
COME ALONG IN FANCY DRESS AND SEE THE FIRE EATERS IN ACTION
APPLE DUNKING, GRAB AN APPLE, TOASTED MARSHMALLOWS
BONFIRE
FAMILY FRIENDLY, BUT LEAVE YOUR PETS AT HOME
LIGHT REFRESHMENTS
MOST ESPECIALLLY ENJOY THE NIGHT
WE WELCOME VISITORS TO OUR COUNTY TO COME ALONG
PART FUNDED BY BOYNE VALLEY TOURISM, MEATH CO. CO. FOR THE SPIRITS OF MEATH HALLOWEEN FESTIVAL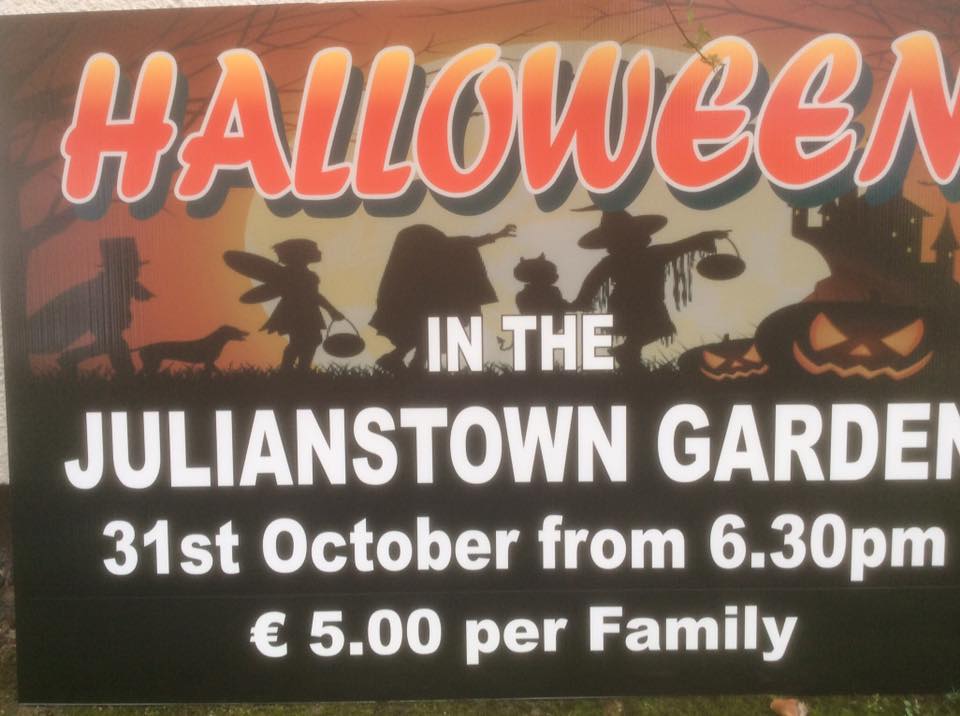 PLEASE JOIN US TO HELP CELEBRATE
Cooperation Ireland Judges
Coming to Julianstown
Are you involved with a local community service (badminton, bowls, drama, toddler group, early active retirement, meals on wheels, St. Pat's GAA etc.)? Julianstown & District Community Association would like to invite one or two of your representatives to the Church or Ireland Parish Rooms to help showcase Julianstown in the up and coming judging of our village on the 8th August, 2018 at 2 pm
Light Refreshments afterwards
RSVP: nuil1@eircom.net or 086 3477283 or www.julianstowncommunity.com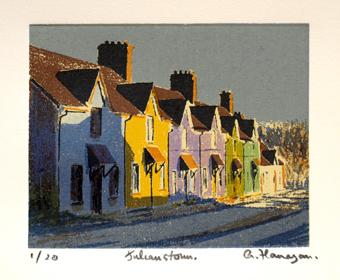 FÉILE BAILE IÚILIÁIN ..... JULIANSTOWN SUMMER FESTIVAL
TAKES PLACE
10th JUNE, 2018
IN
GAIRDÍN BAILE IÚILIÁIN .. JULIANSTOWN VILLAGE GARDEN
FROM 2 pm to 4 pm
THEME THIS YEAR FOR DRESSING UP IS THE MAD HATTERS TEA PARTY
BRING YOUR OWN PICNIC
LOTS OF FAMILY ENTERTAINMENT
ADMISSION €5 PER FAMILY
FAILTE - - ALL WELCOME
An Taisce National Spring Clean in Julianstown
Julianstown & District Community Association are organising our Annual Spring Clean
on Saturday 21st April, 2018
Starting 10 a.m. to 1 p.m.
Meet at Whitecross National School
Bags, Gloves, Litter Pickers and High Vis Jackets Supplied
Please wear suitable clothing and sturdy footwear
Meath County Council are supplying the Skip & Equipment (Thank you)
This is a great opportunity to get Julianstown's Roads and back Roads cleaned
Fill the bags, leave them at side of road and they will be picked up
Please tell your friends and neighbours and encourage them to come along
Tea/Coffee and chat afterwards

JULIANSTOWN & DISTRICT COMMUNITY NEWSLETTER
Julianstown & District Community Newsletter for December 2017
is being delivered at the moment
If you have not received your copy by the 18th December
please contact julianstowndca@gmail.com
and we will send it to you
HAPPY CHRISTMAS AND PROSPEROUS NEW YEAR
TO ALL THE RESIDENTS OF JULIANSTOWN
AND EAST MEATH
Niamh Bn. Uí Loinsigh
Chairperson
J.D.C.A.
NEWS FROM JULIANSTOWN
This has been quite an interesting month in Julianstown. Firstly we had our fun walking tour of our village garden which as you should now know contains native Irish trees, orchard, soft fruit bushes, herbs, wildlife pond and lots of pollinating plants for our birds, bees and insects. We started to create our three acre garden in 2007 and after a lot of hard work digging, planting, fund raising; we now have a beautiful award winning treasure. Many thanks to Meath Co. Co. & Heritage Council of Ireland for supporting this event!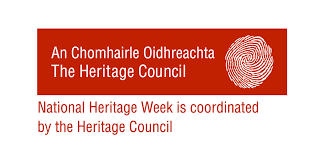 Two new signs have been erected at either end of the garden. Thanks to Gomac signs for making them to our design and to Tom Hughes for installing them. These signs were funded by the JDCA and well worth every penny spent.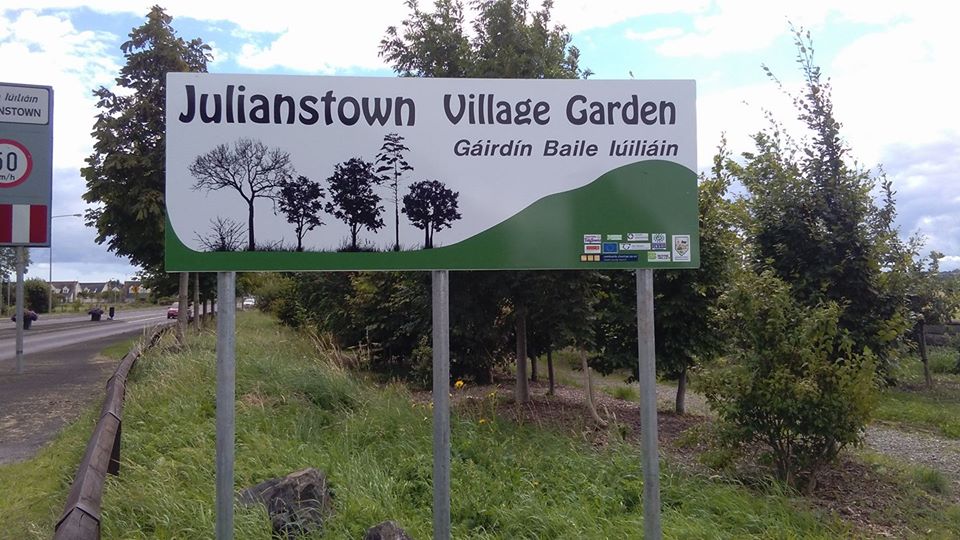 We had our Coole Swan Afternoon Tea in the parish rooms on September lst as fund raiser in aid of our Tidy Towns Group to replace the equipment which was stolen from our container. Please note that no valuable equipment is stored in the container and if you see anyone acting suspiciously around the garden, please inform the Garda or a member of our committee. Getting back to the Afternoon Tea we must thank Mary Sadlier for putting on a great show for us and thanks to everyone who donated Spot Prizes for the raffle! Anne Marie Ennis gave the Cookery Demonstration and showed us how to make an 'Air Cake' What a showstopper the cake was! Great Afternoon and what a great way to relax with your friends.
On September 11th (Monday) 8 p.m. there will be a Public Meeting in the Parish Rooms to discuss getting CCTV in our village. Cllr. Sharon Keogan and Sgt. Dean Kearns, together with an expert on CCTV will be on hand to explain how it works. This will also be an opportunity for all residents to sign up to Text Alert for an annual sum of €6 (great value). We also have 2 new signs erected on the north side of Julianstown and a further 2 signs to be erected! If you know of a spare pole that needs a Text Alert Sign, just let us know!

Old Mill Hotel – This hotel in our village was burned to the ground some 10 years ago, and despite all our best efforts in communicating with the owners and Meath Co. Council nothing has been done to improve the site. It is now a health and safety issue and then on top of that we have anti social behavior with graffiti all over the building. Meath Co. Co. have at last acted and have placed the building on its Derelict Sites Register and the owners have been give 4 months to clean up the site and secure it. The residents of Julianstown would love to see the Old Mill itself preserved and transformed into a building that we could all be proud of in the centre of our very attractive village. Are there any investors out there who would be prepared to take on this beautiful site?
Tidy Towns – The judging for Pride of Place tool place recently and the judge was again very impressed with how the village looks. The Judge was bowled over by the flowers in the Lime Kiln and we have to thank John Macken for that. This year the Lime Kiln has been entered for Best Shop Front and Best Hospitality in the Pride of Place Competition and we wish them well when the results are announced in October.

We are looking for new members for our Tidy Towns and wonder would you be interested in helping out. We meet every Tuesday, Thursday and Saturday in the Community Garden at 10.30 am. This is a great way to make new friends and learn a thing or two about gardening.
Meath Partnership free classes - Free 5 week Basic Laptop, iPhone, iPad, SmartPhone or Tablet Classes available in all areas – Meath Partnership. Please phone Angela on 046 9280790.
If you have anything you would like included on the Julianstown Page please contact us at 086 3477283 (Niamh) or Facebook Page Julianstown Tidy Towns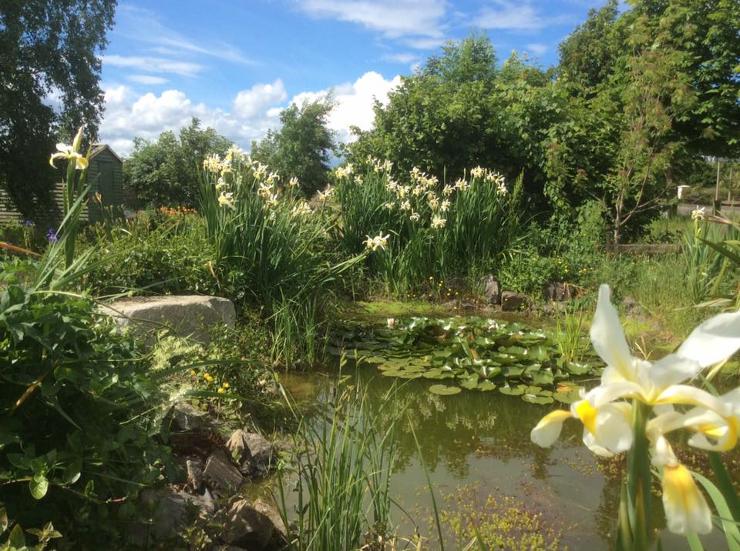 Summer is almost here, and we have been very busy planting up our display boxes ready to place them throughout the village. Have you noticed the three new raised beds on the approach roads beneath the Julianstown signs? They too are beginning to look really well.
As you know June is the month when the Adjudicator from the Supervalu National Tidy Towns comes around and our Tidy Towns group, together with some very willing volunteers from Albania, are doing our best to make the village presentable with cleaning the verges, weeding and general tidying up. We think it's looking good and thank all our residents for going the extra mile, including Tim and Mary who you see out doing that thankless job of litter picking.
Don't forget our Saturday morning clean ups continue ... we meet at the Village Garden at 10.30 am, generally work for an hour or two, followed by a cuppa and chat. You may also have noticed that we have been cleaning all the verges and footpaths in the village on Tuesday evenings from 6/7 p.m ..... we could do with your help!
We were delighted to be invited to Kilkenny by the Heritage Council of Ireland for our Village Design Statement. Julianstown is the National Pilot for small villages and this project was funded by the Heritage Council some years ago. Two of our members, Jackie and Niamh went to Kilkenny Castle to meet with HRH Prince Charles, who proved very interested in the work that we and local communities put into our villages. We were proud to promote Julianstown, East Meath and Ireland's Ancient East .
What a wonderful experience we had in Sonairte on the 20th May. It was the Dawn Chorus! We gathered at 4.30 am to walk through the woods, down to the bird hide on the river Nanny and were led by Lenny Lenehan of Bird Watch Ireland. The weather was perfect, and of course, the Birds did not disappoint us. Then we had a wonderful performance by the Mornington Gospel Choir singing their hearts out. It was a magical experience and to top it off at 6 am we had a wonderful hearty breakfast cooked by Bridget in the Sunflower Cafe. We do hope this will be a yearly event!
We are now planning our Summer Festival and Street Fest which will be held in our Village Garden on the 11th June from 2 p.m. to 5 p.m. This year we have an added surprise in that Meath Daily will be coming along to film the event. So make sure you're there early for a fun afternoon with lots of entertainment for the children and adults. Admission €5 per family. Don't forget to speak a cúpla focal on the day. There will also be a prize for the best 'Crazy Hat'. As they say get your 'thinking hats on and create a Show Stopper !
Whitecross National School – 6th class Graduation is on June 23rd; and their school tour is on 26/27 June. School closes June 30th. Best wishes to all the boys and girls who will be sitting their Junior and Leaving Certificates from the JDCA.
Annual Mass and Blessing of Graves – Stamullen Friday 23rd June @ 7.30 p.m. Julianstown in Moorechurch Cemetery – Sunday 2nd July at ll.30 a.m. and Kilsharvan Cemetery Friday 14th July at 7.30 p.m. www.Julianstowncommunity.com Facebook: Julianstown Tidy Towns Group -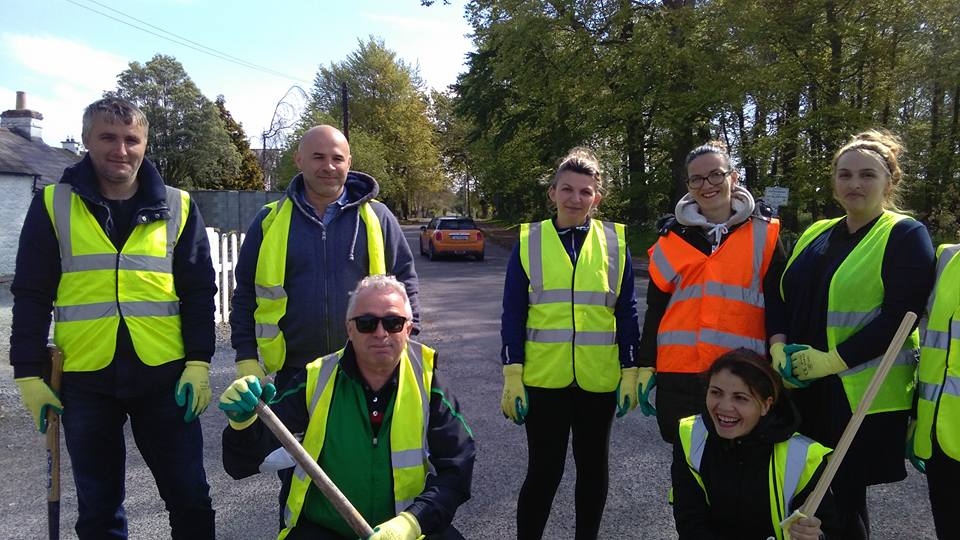 Our Friends from Albania who such lovely people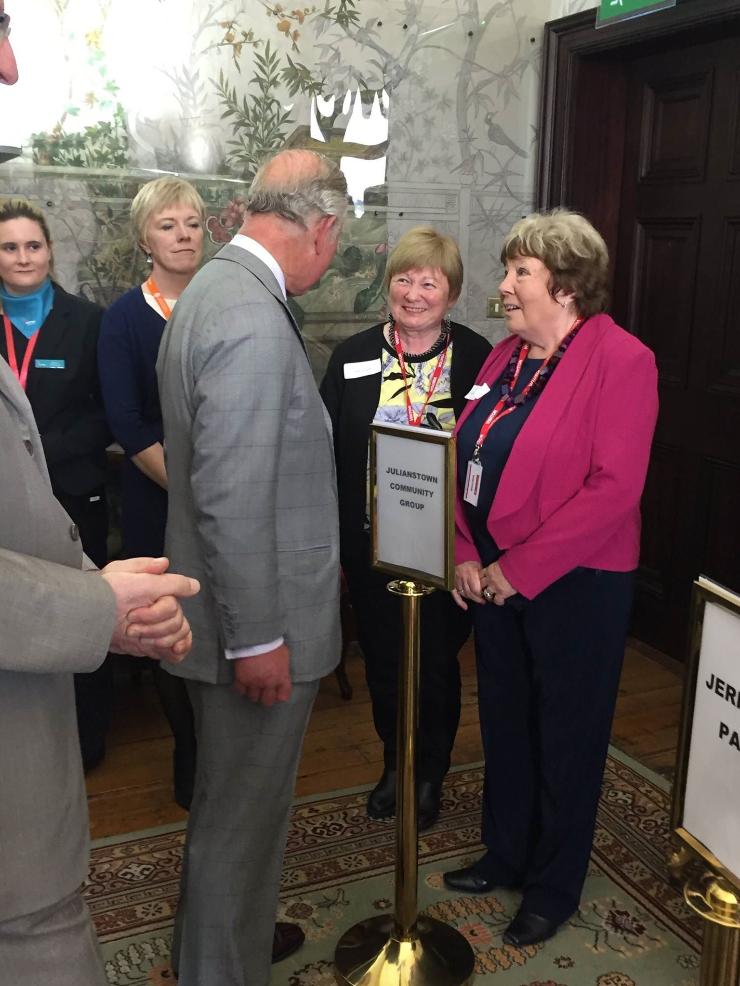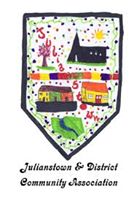 Julianstown & District Comm. Assoc are holding their AGM on the 14th March, 2017 in St. Mary's Church of Ireland Parish Rooms at 8 p.m. All welcome to attend. Please note that should you wish to vote a registration fee of €5 is payable on the night.
News from East Meath, & Julianstown
JULIANSTOWN TIDY TOWNS GROUP·WEDNESDAY, JANUARY 18, 20171 Read
For your information the Old Mill Site has been partially 'cleaned up' and this is how it now looks! Isn't it just terrible and to think it is right in the centre of Julianstown.
Franciscan College, Gormanston, Co. Meath 01 8412203 is holding an enrolment night for New Transition Year and 5th Year Students on Monday 6th February from 5.30 - 7.30 p.m. Building immediately to left of entrance (beside doctor's surgery)
The Meath County Development Plan 2019-2105 can be viewed on the following date: Laytown/Bettystown Municipal Area - Wednesday, 1st February, 2017 from 5 pm to 7 pm in the Duleek Civic Offices, Main Street, Duleek, A92 R9KW. This is an information night!
Great to hear some good news - Duleek's Majestic Connell's House has now been lovingly restored. This house is recorded as being built prior to the Battle of the Boyne in 1690 and has been restored into a self catering base.
The Old Drogheda Society is hosting an introduction to Community & Genealoghy/Family Research and will be presented by local historian Brendan Matthews and Emmett Doran. Course starts Saturday 4th Feb and will run every Saturday for six weeks from 10.30 am to 12.30 p.m. Said course is aimed at those with an interest in finding out more about Community History and carrying out Family History Research. Course Fee is €70 with reductions for SC. Enquiries and bookings to Drogheda Museum - 041 9833097.
New Look Lidl on the Donore Road - It is closed at the moment and it is being turned into a two storey development.
Over the Christmas period it was lovely to see The Lime Kiln, Relish Cafes' , Eastern Seaboard, Barefood Company and D'Vine donate all their tips to Drogheda Homeless. This is the 3rd year this is running and a sum of €2,789.76 was raised. Well done to all the staff and diners for their generosity.
BOYNESIDE TRAIL - Consultants have been appointed this week for the 8.5 km Boyneside Trail from Drogheda to Mornington. Well done to all Boyneside Trail Committee and thanks to our Councillors for getting behind this potentially great outdoor walking activity.
Did you know that we have NO PUBLIC SWIMMING POOL in EAST MEATH?
COURSES & CLASSES - Coláiste na hInse - East Coast Night Classes Spring 2017.
Enrolment Evening: Wednesday 25th January 2017 from 7 - 9 p.m.
MEALS ON WHEELS - Julianstown & Stamullen Meals on Wheels would like to thank their drivers, the Chef, Management & Staff of the Glenside Hotel, donors and everyone who has helped in any way. Contact them on 085 7222068.
Yoga Classes - Yoga into the Light. Classes recommence Wed 18th January @ 10.30 am and Thursday 19th at 7.30 p.m. Contact Margaret 087 6948715.
ALL PRIMARY SCHOOLS - If you have a child who will be 4 year of age before 31st March, 2017 and wish to enrol him/her for school, please contact your nearest local school.
LITTER has once again become a very serious problem all around East Meath. Litter should be disposed of properly and not discarded in a couldn't care less fashion. Shame on those were are reponsible for all the illegal dumping.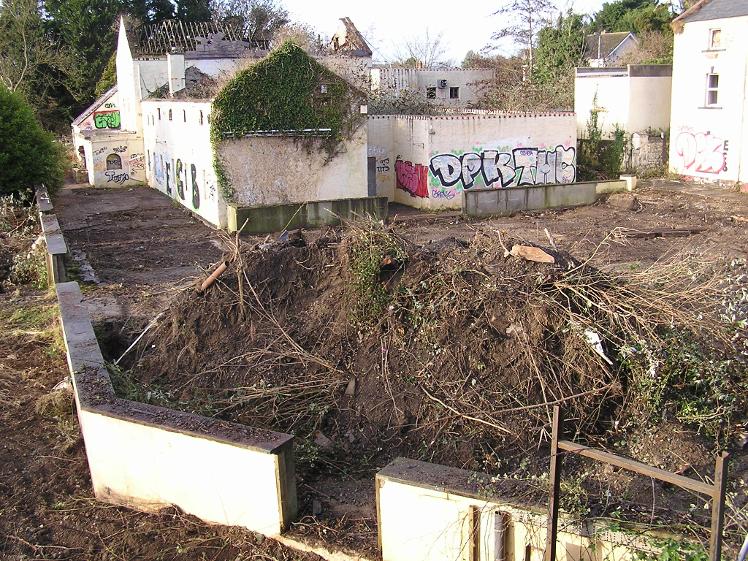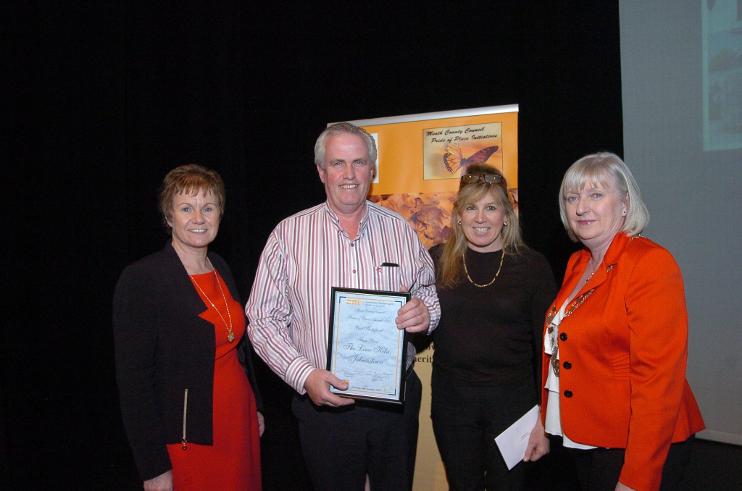 NEWS FROM JULIANSTOWN
Lime Kiln Wins Best Shop Front and Julianstown wins Best Approach Road at Pride of Place Awards
Julianstown did rather well at the Meath Co. Co. County Pride of Place Awards in the Solstice Theatre Navan and were delighted to pick up two awards for the village. John Macken has spent a lot of time nurturing his wonderful display of flowers at the Lime Kiln and I'm sure you will agree the Gastro Pub has certainly brought much needed life into our village. Congratulations, also, to the many volunteers' who have done so much for Julianstown, whether it is litter picking, planting flowers, paving, watering the plants, mowing the grass – without your help what a drab village we would have.
Christmas in Julianstown Firstly, many thanks to our Councillors who are funding the Christmas Tree and Lights and I hear that our own committee members are busy making Santa Suits to cheer up the Main Street and look forward to seeing them in situ. They really do brighten the spirits. Children! Santa, Mrs. Claus and their Elves will be calling to the Lime Kiln on Tuesday 13th December at 6.30 p.m. to meet you all. We understand that Santa & Mrs. Claus are stopping of at Stephen and Stella Hoey's house to give their Reindeer a quick rest. Stephen has kindly offered to drive Santa to the Lime Kiln in his little Red Tractor! We are also delighted to say that the Mornington Gospel Choir will be on hand to sing some Christmas Carols for us and we do hope you will join in and sing your hearts out. There will be mince pies,mulled wine for the mums and dads and a super raffle. This is a joint venture being run by Julianstown & District Community Assoc. and the Lime Kiln.
Interchange at Gormanston – Wonderful to see that the Gateway to East Meath has at last been cleaned up, crash barriers repaired and whole area weeded. We thank everyone who got in touch with the Council on this and hope it will now be maintained on a regular basis. A meeting of all residents and community groups was arranged in the Glenside on the 30th November and the JDCA were delighted with the turn out. It is our intention that, we, in East Meath join together, and insist that the council deal with the issues which are plaguing this beautiful part of Meath.
DEFIBRILLATOR LOCATIONS East Meath Cardiac Response Unit have installed a new External Defibrillator at the Lime Kiln Julianstown A92 PP23 on the wall at the side of the road and they would like to thank the owners of the Lime Kiln, Tom Kelly and the JDCA for their help and support in getting this up and running. You can find other Defibrillators at Harry's Centra, Mornington, Pat's Centra, Bettystown and Alverno House Laytown. If you want the Responder Unit to demonstrate for your local resident association or youth club contact Jim: 086 1962636.
.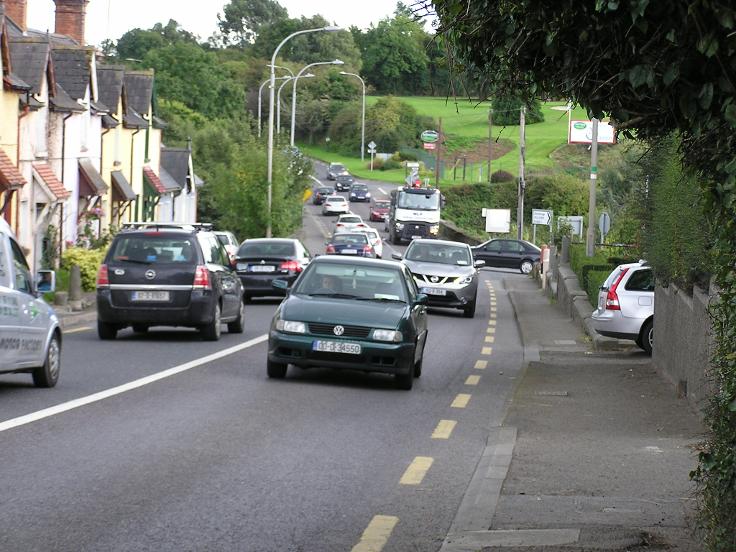 Neglect of East Meath
On Tuesday 18th October, 2016 the Julianstown & District Community Association invited local groups from East Meath (Gormanston, Laytown, Bettystown, Mornington, Stamullen, and Julianstown) to a meeting to discuss the neglect of the region by Meath County Council. As a result of this meeting there will be a Public Meeting in the Glenside on Wednesday 30th November at 8 p.m. We hope to have our TDS, Local Councillors and a representative of the council present. This meeting involves all of us living in East Meath and we hope you will make every effort to attend.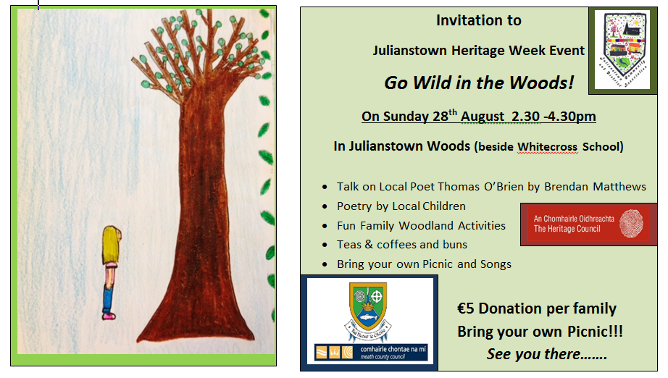 The Julianstown and District Community Association have an exciting event planned for Heritage week at the end of August called Go Wild in the Woods!
Go Wild in the Woods will take place on Sunday 28th August at 2.30 – 4.30pm in the Julianstown Woods beside Whitecross school. It will be a fun family event full of learning and nature education, in line with our Biodiversity and Woodland Management plan.
Go Wild in the Woods will start at 2.30pm with some poetry reading by the children of Whitecross School whose wonderful nature poetry will be part of creating a poetry path in the woodland. There will also be a talk by local historian Brendan Matthews on 19th Century Julianstown Poet Thomas O' Brien who died in 1906 and wrote many poems reflecting the history of his times.
This will be followed by lots of creative fun activities for all the family……… including bird-watching tips, bird and bat-box making, identifying trees, bug-hunt, hedge-hog hotel making, woodland quiz with prizes and lots more…..finishing with picnic in the woods at 4pm.
Tea / coffee and soft drinks provided – please bring your own picnic. Entry donation of €2 per adult and €5 per family - we hope to see you there!!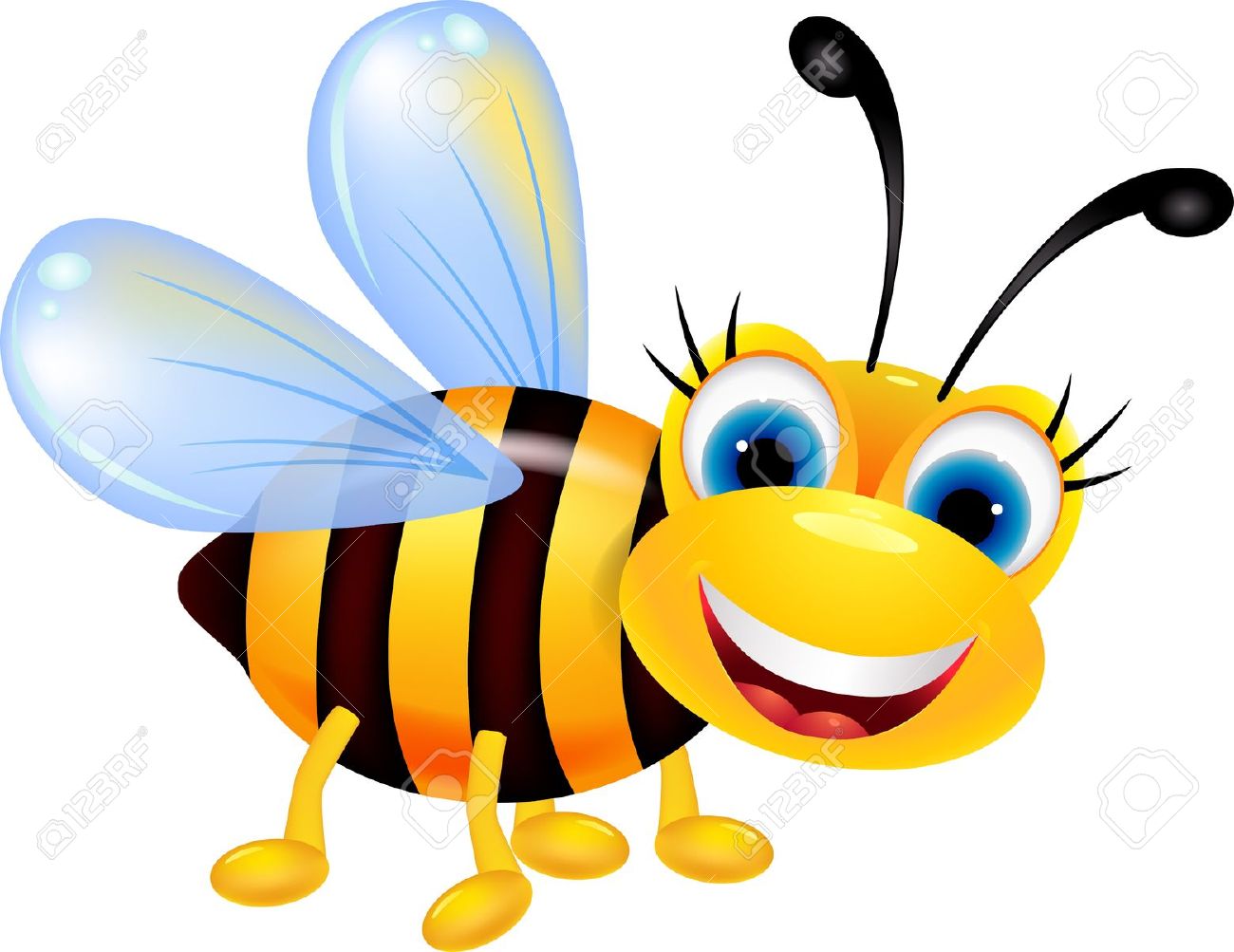 BEES AND BUTTERFLIES STREET FEAST IN JULIANSTOWN COMMUNITY GARDEN
ON SUNDAY 12TH JUNE AT 2 P.M.
ENTERTAINMENT WITH MAGICIAN & PUPPET SHOW
SUPER SLIDE, GAMES, CRAFTS
FACE PAINTING, GIANT 14 FOOT DRUM FOR ALL TO PLAY
GIANT JENGA & CONNECT 4
Competition for Best Bonnet/Hat
Learn all about Bees and their favourite flowers at our Biodiversity Table and you can also purchase some of the flowers
Renew your membership for our Community Text Alert
BRING A PICNIC
SUPER RAFFLE WITH HAMPERS FROM BOYNE VALLEY HONEY, COOLE SWAN LIQUEUR AND OUR NEW BISBUIT FACORY IN DROGHEDA EAST COAST BAKEHOUSE
CLARKES FRUIT FARM STRAWBERRIES & CREAM CREAM FROM OUR FAVOURITE MILKMAN JOHN ROGAN
YUMMY HOT DOGS & SOFT DRINKS FROM COCA COLA
AFTERNOON TEA
ADM. €5 PER FAMILY .... ALL WELCOME
EVENT ORGANISED BY JULIANSTOWN & DISTRICT COMM. ASSOC.
Tidy Towns and Pride of Place Competitions
Julianstown and District Community Association are once again starting their annual work to improve the general appearance and community amenities within the village and we will again be entering both the Meath Co. Co. Pride of Place awards and the national Supervalu Tidy Towns competition this June... this year there are new categories for Best Shop Front, Best Streetscape and Best Hospitality/Tourism, if you would be able to help in any small way we would be delighted and please get in touch as we are always hoping new people will come forward and get involved as there is plenty to do and there are many different areas of interest for everyone to become involved with.
During this year we are planning to undertake initiatives from our recently launched Julianstown Community Biodiversity Action Plan 2016-2020 this has been developed from the actions of the County Meath Heritage Plan 2015-2020 and the County Meath Biodiversity Plan 2015-2020.
Our own bio-diversity report was funded by the Heritage Council of Ireland in collaboration with Meath County Council with Deborah D'Arcy MSc a consultant ecologist assisting us in developing our own plan which was recently launched to the wider community.
This year we have prioritised the important area of bees and pollination and plan to upgrade many of our existing planting areas by incorporating bee friendly pollinator planting. This initiative we are calling "Bee Friendly in Julianstown" and we will be working with the local school and wider community to highlight the importance of the native bee population of Ireland and how we can all become more bee friendly!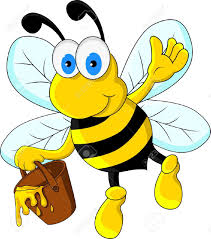 Poets corner and walk
In addition to this project which will also be the focus for our forthcoming summer festival in June, we will be continuing the work on our community woodland with the installation of a poets corner and walk; this will highlight the beautiful woodland poetry that was completed last year by the children at Whitecross school and will also commemorate our local renowned poet Thomas O`Brien from Sarsfieldstown, Julianstown.
We have decided to put out an appeal to both the local and business community in the hope that they may be able to help support and sponsor us with the costs involved in delivering these initiatives. The Julianstown Tidy Towns committee are very dedicated in their support of our community and were delighted with the recent report in the Drogheda Independent on Wednesday 24th February 2016 pg. 14 which wrote … "the Julianstown and District Community Association could nearly give lessons on the art of improving a community; such is their love of their own patch of County Meath"
Anti-Litter Initiative and National Tree Week
The Anti-Litter Initiative is now in full swing and runs until the end of April, after such a long dreary winter the village is beginning to come alive and is looking pretty good. Many thanks to everyone who is making such an effort at keeping Julianstown Litter Free! Don't forget if you need any gloves, bags, litter pickers, you can contact Niamh on 086 3477283 or Jackie on 087 6579884.
Thank you also to the large crowd that came out to help with the An Taisce National Spring Clean Day on the 2nd April and once again filled a skip (provided by Meath Co. Co.) with rubbish that was dumped on the sides of the roads.
Many thanks to An Taisce for the bags, gloves and litter pickers and many thanks also to Meath County Council for supply the skip, bags, gloves and litter pickers.
We also recently received a donation of both Beech trees and Douglas fir saplings from Peter Brady, Environmental Officer with Meath Co. Co. these saplings were donated as part of Coillte's National Tree Week.
New Garden Shed
Many thanks to Jean and Cormac Reynolds from Bettystown for their generous donation of an unwanted shed for use in the community garden, Karl Allen very kindly moved the shed to its present location and a big "thank you" to our local volunteers who are helping sort out the area around it ready for use this summer.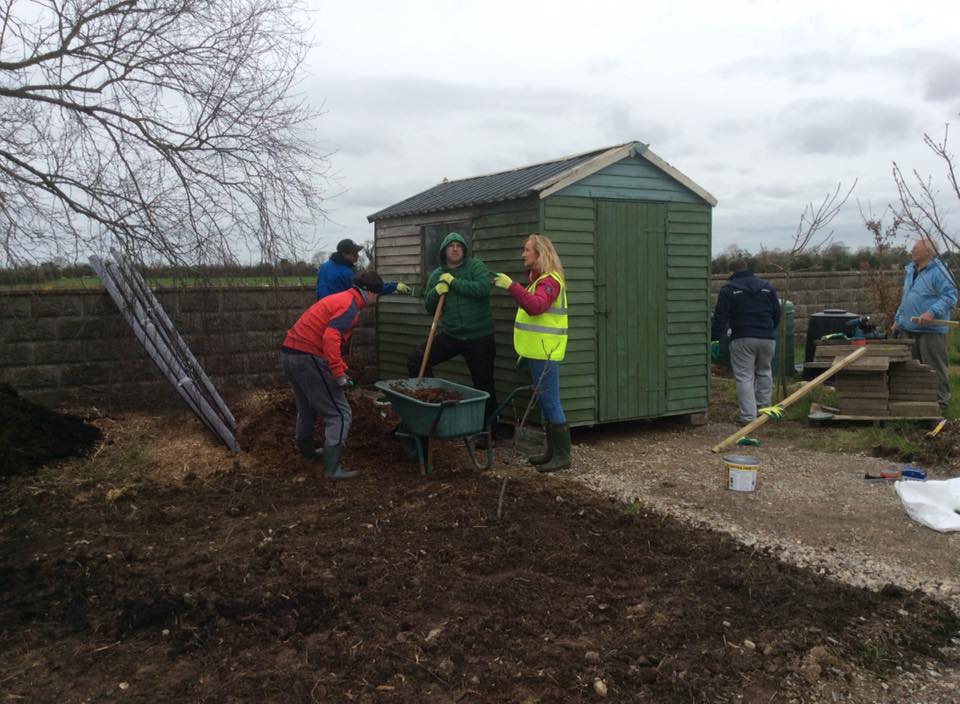 Julianstown Text Alert
Julianstown Text Alert is now due for annual renewal and those registered will shortly receive a text with Freepost information and fees. The address for posting is to Duleek & District Text Alert, Freepost FDA 103 Community Advice & Support Office, Main Street, Duleek, Co Meath. The charge is €6.00 and cheques can be made payable to Duleek & District Text Alert.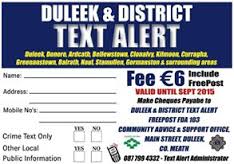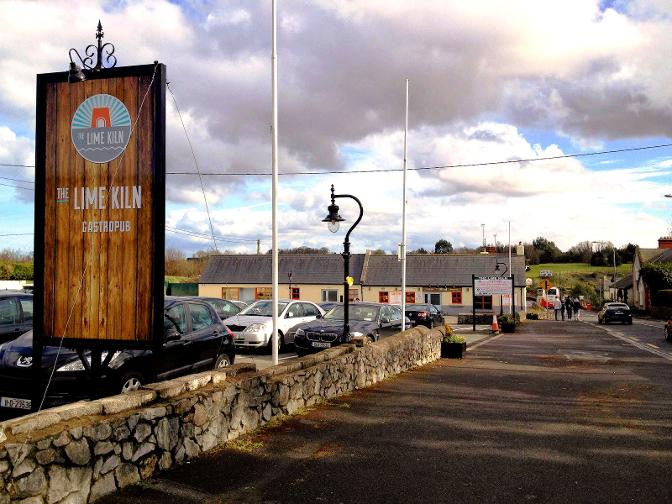 INVITATION TO PUBLIC MEETING
You are invited to join Julianstown & District Community Association
In the Lime Kiln, Julianstown
On the 16th February, 2015 @ 7.30 p..m.
For the Launch of Bio Diversity Plan for Julianstown
Guest speaker
Loreto Guinan, Heritage Officer for Meath County Council
Project funded by the Heritage Office of Meath County Council
Oxigen will also be on hand to tell us about changes in Waste Collections
All Candidates for forthcoming Election have been invited
Niamh Bn. Uí Loinsigh
Chairperson
JDCA
086 3477283
Santa, Mrs. Claus, and his Elves make a surprise visit to the Mother and Toddler Group in Julianstown Community Centre on Wednesday 16th December, 2015. Santa and Mrs. Claus wishes all the boys and girls in Julianstown a Very Merry Christmas and will be calling to their houses on Christmas Eve. So boys and girls early to bed on Christmas Eve and No Peeking!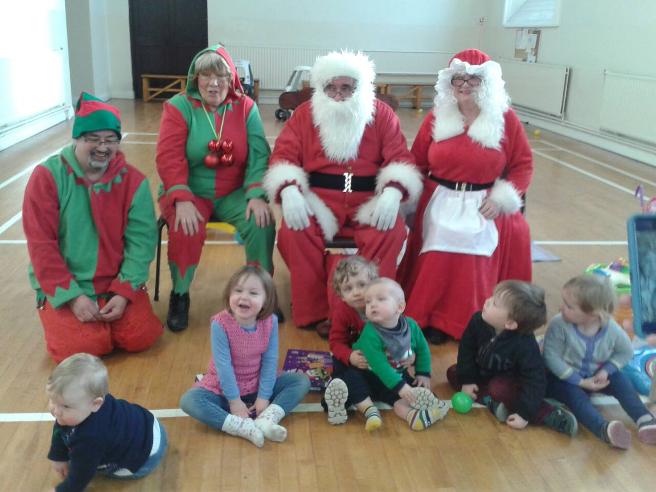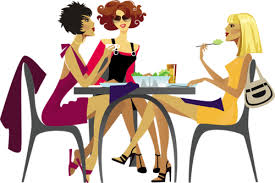 We would be delighted if you could join us for an Afternoon of Lunch i
In The Glenside Hotel, Smithstown, Julianstown, Co. Meath
Hosted by Julianstown Tidy Towns
on 24th November, 2015 at 1 p.m.
With Guest Speaker
Tickets: €25.00 Euro and are available from

Clare McEnaney 0863991813
Aisling Monahan 0879051751
Jackie O'Shea 0876579884
Niamh Uí Loinisgh 086 3477283

R.S.V.P. By 15th November

All funds raised will go towards Julianstown Tidy Towns
Calling all adults and children
Are you looking for a leisure activity in Julianstown?
Just click on the page .................... Activities available in Julianstown

JULIANSTOWN DRAMA GROUP BRINGS HERITAGE OF 1641 BATTLE ALIVE .

JULIANSTOWN DRAMA GROUP BRINGS HERITAGE OF 1641 BATTLE ALIVE
AUGUST 22nd - 4pm start - SONAIRTE -Laytown Road-, Julianstown .
ENTRY FREE - ALL WELCOME
" Following on from the huge success of Their last two drama productions - The Whitehorse of Ballygarth & Collier the Robber . JULIANSTOWN DRAMA GROUP are proud to announce their 3rd production "THE BATTLE OF JULIANSTOWN 1641"
Embrace your history during heritage week by joining us on 22nd of August in Sonairte at 4pm.
Local historian Brendan Matthews will give a talk about the huge importance of the Battle.. Brendan's book "The Battle of Julianstown and The Siege of Drogheda" tells the story of British Troops marching from Dublin through Balrothery , Mosney & Whitecross. Their mission was to get to Drogheda to help defend its walls. What they were not prepared for was to be met in Julianstown by Pheilim O'Neil and a huge army of Irish rebels.
The play will be performed directly after the talk at 5pm sharp, lasting approx 1 hour and it will present a humorous take on what might have happened leading up to the Battle. See King Charles the 1st , his horrible wife Henrietta of France and The Rebel Leaders Pheilim O'Neill and Rory O'Moore come to life and learn how the Irish beat the English troops on this occasion.
ENTRANCE FREE. Cafe will be open - please bring a fold-up chair. NOT TO BE MISSED
FUNDED BY THE HERITAGE COUNCIL
AND BY MEATH COUNTY COUNCIL.
"Funded by Meath County Council under its Community Heritage Grant Scheme 2015"
Easter Greetings from Julianstown - To put a smile on your face when you're driving through Julianstown we have bunting, bows and daffodils large and small! Many thanks to our merry band of Volunteers and Tús Workers who doing a great job making our village look so good!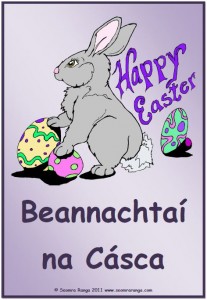 The Woods in Julianstown
ARE YOU FREE SAT 14th March?
Julianstown Tidy Towns have been asked on many occasions to do something with the little wood at Whitecross. We have applied to the Carranstown Community Grant Scheme for funding for this project, but we may not
get it given that it extends only for a radius of 2.5 k from Indaver. However we are forever hopeful! We are going to try and do this now with a much smaller budget and starting this Saturday the briars and blackthorn will be flayed. Following on from this on Sat 18th January we have engaged a JCB to then take out the roots so we can plant some bare root trees in its place. There will be lots of spoil to be moved, so if you are free on Saturday 17th perhaps you could come along a give a hand. Just wear heavy boots, warm clothing, and gloves. This wood is a fabulous amenity in the centre of our village, and if we can tidy up the ivy which has gone right up into the canopy of some of trees and perhaps have a designated are for grasscuttings, it would benefit all. We would also like to install a 'Seomra Glass' which could be used by Whitecross National School for their science classes.
This is a case of Your Village Needs Your Help!
Please leave a comment and let us know if you are available.
Tea and Coffee for all and maybe a chochy bicky or two.

As you are aware there is an immense rookery in the woods as well as many small birds living there and it is not our intention to destroy their habits, but rather to enhance them. We would love to put in some bat and owl boxes and some for our blackbirds and robins as well. Many of the trees in the woods are beech and Blue and Great Tits just adore the seeds.

We also received funding from Local Agenda 21 for a picnic table which will be sited near the bus stop at the woods and a half moon seat which will be placed around the Oak Tree on the Drogheda side of the Community Garden.
Text Alert Launch - 10th March at 8.00 p.m.
Venue: Church of Ireland Parish Rooms, Laytown Road, Julianstown.
Areas to be covered
> >
> > All of Julianstown Village as far as South Gate on North Side and Murphy's Quarry on South Side (R132)
> >
> > Out as far as Kilsharvan on Duleek Road and the Laytown Road to Minnistown Road, Pilltown Road.
> >
> > Mosney and Briarles, Ballygarth and Pigeon House Lane, Moorchurch Road and Cooper Hill.


Please contact Niamh on 086 3477283 or julianstowndca@gmail.com for membership form if you can't make meeting.
Julianstown Drama Group presented the play 'Collier the Robber Rides Again' which was written and directed by Debbie Wogan.
It was a wonderful light-hearted play about Meath's best known highwayman who hailed from Lisdoran in the late 1800s. It started with a court scene in Trim, a bar scene in Julianstown, a stage coach hold up at Smithstown, and ended with another court scene in Trim at which Michael the Robber had his comeuppance! Well done to all the cast for such a brilliant performance.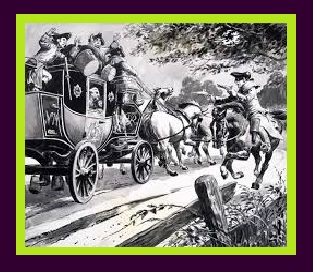 The Cast
Michael Collier - Brian Calvey,
Peggy - Emma Corcoran,
Innkeeper/Mr. McNally - alan Howard,
Mr. Balls - Yvonne Howard,
Judge Rowe/Narrator - Dermot McCullen
Bridie/Boulger - Lorraine O)'Dwyer,
Woodsey/Judge Judy - Seamus Connolly,
Mr. Moore/Innkeeper's wife - Mary Lou Murray
Aggy - Philly Fox,
Mary/Mr. Hoey - Emer Dolphin,
Robert Russell - Lousie Maloney,
Mary Kelly - Sarah Harris,
Henry - Emma McDonald,
Sully - Josie Wogan
Drum Boy - Harry Wogan
Jury - Margaret Downey.
Jury - Niamh Bn. Uí Loinsigh
The 2 horses played themselves and gave the audience a good laugh – it`s not often you have two hobby horses pulling a stage coach!

Many thanks to all the sponsors on the night
City North Hotel, Gormanston Tyres Group, Glenside Hotel, Edmund McNulty, Millmount, Tranquility Health & Beauty Clinique,Quintessential Wine, Drogheda Arts Centre, Joan McDonald, TLT & Sound Shop, Sage and Stone, Pat's Supermarket Laytown, Eastern Seaboard. Thanks also to the Church of Ireland, Parish Rooms for the use of their facilities.

Julianstown did very well at this year`s Meath County Council Pride of Place awards in Kells on Friday 10th October.
Winning a 3rd in Best Approach Road to the Village
2nd in the Small Village Category (C)
But a very special congratulation goes to Nianh Ui Loinsigh who was the winner of a special award for "Volunteer of the year".
"Well Done" Niamh, you so deserve it.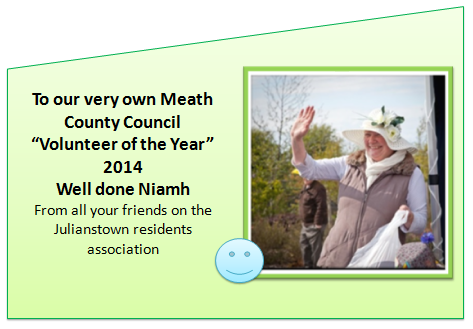 Would you have an hour to spare with Julianstown community to make a difference in our area? We are always happy for your suggestions and ideas. Thank you for your continued support. Please contact Niamh 086 3477283 or Jackie on 087 6579884 re further information on our projects and initiatives.
Tidy Towns Competition 2014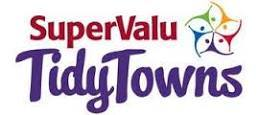 The national SuperValu TidyTowns competition is an annual competition organised by the Department of the Environment, Community and Local Government with the support of the main sponsor SuperValu and many other agencies.
Julianstown Tidy Towns group were very proud to represent Julianstown at these awards.
TREE PROJECT AWARD
Sponsored by Tree Council of Ireland
Joint Winners of €500 each
Dromod Village, Co Leitrim
Julianstown Tidy Towns Group, Co Meath
Adjudication Report
Centre:

Julianstown

Ref:

1217

County:

Meath

Mark:

277

Category:

B

Date(s):

22/06/2014

Maximum Mark

Mark Awarded

Community Involvement & Planning

60

44

Built Environment and Streetscape

50

31

Landscaping and Open Spaces

50

39

Wildlife, Habitats and Natural Amenities

50

32

Sustainable Waste and Resource Management

50

15

Tidiness and Litter Control

90

52

Residential Streets & Housing Areas

50

35

Approach Roads, Streets & Lanes

50

29

TOTAL MARK

450

277
Community Involvement & Planning / Rannpháirtíocht an Phobail & Pleanáil:
Julianstown and District Community Council is very welcome to the 2014 Tidy Towns Competition. Its division into various subcommittees with members working in areas related to their own particular skills is all to the good and can only be beneficial to you and your work! The fact that the Tidy Town's group fosters help from other members of the community also encourages a sense of pride in your village. The historical aspect of the village is one that you obviously –and rightly-highly value and respect. You have a good working relationship with the school, Meath county council, an Taisce and the Meath Partnership which is laudable. It was good to hear that you appreciate feedback from the local community. Congratulations on your achievements and awards in the Pride of Place competition and Meath County Council anti-litter league. Congratulations in your silver medal at the Liv Com awards in China. We noted you mention a village design statement-presumably this is a separate document to your 3 year plan and those submitted-possibly that written by the county council? If so, please enclose a copy with next year's submission.
Built Environment and Streetscape / An Timpeallacht Thógtha agus Sráid-dreacha:
The village of Julianstown looked very peaceful on a lovely summer's day. The rear of the abandoned hotel and old mill building is very dominant as one approaches the village. It looks very unfortunate with its dereliction and graffiti. Hopefully is an issue that will be resolved in the not too distant future-this should be done in a sensitive and appropriate manner. We noted that the owners are working with the Heritage Council and yourselves in this regard. The fact that Julianstown is situated in an architectural conservation area is good as it means that all these fine buildings stand a good chance of being maintained and restored. The village has a wealth of historical and architectural heritage at its doorstep. The erection of new signage was noted and appreciated. Little Joeys crèche looked fresh. The Gallops Bar and restaurant looked well despite it being abandoned! Although the rear boundary wall of the car park in this location could be painted and additional landscaping would help break up its impact as it is rather large. The freshly painted school and attractive planted tubs were admired as was the striking modern church with its large slate roof and older statuary. The charming St Mary's Church of Ireland was admired on the village outskirts.
Landscaping and Open Spaces / Tírdhreachú agus Spásanna Oscailte:
The Community Garden looked marvellous as a statement of intent on approach to Julianstown. Its ongoing maintenance is commendable. The new Irish wildflower bed at the Community Garden was noted and admired. The garden itself is magnificent with its fruit trees, vegetables, bug hotel, composting bin, rainwater recycling etc-a marvellous gem for the village! The planting of 70 mature trees on approach roads is a great idea, as is the naming of trees on same. The planting of geraniums etc at the main junction by the hotel was admired. The golf course looked immaculate and the black timber painted bench and planting opposite were admired.

Wildlife, Habitats and Natural Amenities / Fiadhúlra, Gnáthóga agus Taitneamhachtaí Nádúrtha:
Your work with the Education Officer in An Taisce in this regard was noted and the work with ecologist Dr Emma Reeves was also a good idea. The pond in the Community Garden will no doubt attract wildlife and improve bio diversity. The ongoing bat survey is commendable. We look forward to seeing the results of your allotment visit-do you plan to have some in your community garden? The Seomra Glas is a good idea, as is the Greenway from Laytown. Good luck with the future training seminars and workshops with An Taisce. We look forward to seeing the completion of your dovecote-what a wonderful idea!
Sustainable Waste and Resource Management / Bainistiú Acmhainní agus Dramhaíola Inbhuanaithe:
Your efforts at recycling and waste reduction are noted. The use of a community composter, the recycling of batteries and increase in e mail and texting to reduce waste paper are all to the good! Segregation of collected litter is commendable. We note your efforts to further improve this category and your visits to other entrants to see how they deal with this aspect of the competition. The questionnaire sent to parents of schoolchildren was an interesting idea. Your plans in relation to food foraging workshops, organic gardening and brown bins were all noted and sound very interesting. We look forward to seeing the bottle banks in place in the not too distant future! Presumably Sonairte have been helpful to you in this regard as they are so close by
Tidiness and Litter Control / Slachtmhaireacht agus Rialú Bruscair:
We appreciate the hard work involved in trying to maintain the village, given the large volume of traffic passing through. Congratulations on your silver award in the Meath Anti Litter League competition. The involvement of the local children in this regard is to be commended. Your work in relation to signage, the community garden and unsightly signage were noted.
Residential Streets & Housing Areas / Sráideanna Cónaithe & Ceantair Tithíochta:
The many housing estates of the village were generally well presented. The residents of Anny View, Preston Park, Preston View, Castle Grove and Hillcrest are all to be commended on their hard work to date. We were pleased to hear that you have a close working relationship with them. The terraced Swiss cottages are quite charming and most unusual. The whitewashed cottage by the school was admired. There are some marvellous gardens with big long verges outside on the roadway leading down to the church.
Approach Roads, Streets & Lanes / Bóithre Isteach, Sráideanna & Lánaí:
The approach from Bellewstown was good although the rear of the old mill has been mentioned elsewhere in this report. The Drogheda approach is an attractive one although the advertising hoardings create a negative impression. The traffic roars through the village at speed-have you looked into any traffic calming measure to counteract this problem?

We have purchased new planters for the village and have some lovely summer bedding plants in them. Many of the pots have been sponsored by local businesses and any one who sponsored a pot will have their names inscribed them. If you would like to sponsor a pot, please contact any member of the committee. Many thanks to Robert McLysaght Nurseries for the wonderful bedding plants which he grows locally.

Julianstown and its residents must be very proud of the great turn out for the Giro. Not even the rain could keep anyone away. It was all happening down at 'The Gallops' v the Julianstown Committee had hot dogs, soup, and tea and coffee and were sold.

Thank you to everyone who helped with the anti-Litter League and to Meath Co. Co. and Coca Cola who sponsored it. We didn't win a prize, but we still managed to get a silver medal. Well done to our neighbours in Laytown and Stamullen who won.

A Big thank you to all who attended our coffee morning, it was so great to get to talk to people, and mix. Julianstown is such a happy friendly place to live, as expressed by many people. To those who contributed by baking, donating, helping. We could not have had such a successful day without YOU. Many thanks.

Judging for this takes place the first two weeks in June this year, and we would really appreciate your help in making Julianstown shine! The judge will be going all around the village and housing estates, so if you can mow, paint, and perhaps if your elderly neighbour needs a bit of help, why not volunteer?

That was the theme for this year's Garden Fest on Sunday 15th June. We had a drumming circle lined up for all the boys and girls, Punch & Judy, a Magician. The kids learned how to twist balloons into wonderful things. For the adults we had strawberries and cream, cakes, and buns. Hope everyone enjoyed the sunny weather and the time spent among friends. The fest was great.
First of all Clare McEnaney gave us the all the news about what happened at the Living Communities International Awards in China and we also saw a terrific short film on Julianstown which was produced by Tony Breen of Switch Digital Productions which is based in Drogheda.
First of all Clare McEnaney gave us the all the news about what happened at the Living Communities International Awards in China and we also saw a terrific short film on Julianstown which was produced by Tony Breen of Switch Digital Productions which is based in Drogheda.
Emer told us about the projects from our Village Design Statement which are in the process of being completed by the Residents Association.
Mary Logue gave us the low down on what we intend to do with the woods, which is to remove all the bramble and some of ivy and make the woods more accessible to all. Gerard Clake from Coillte will be on hand to advise what trees could be dangerous etc . and how we can imprive woods. Annette Lynch (Wildlife Ranger) will be helping with the super Rookery in the woods and advise how we can attract more wildlife into the woods. As this wood is right beside the school it will be a wonderful amenity for all the children and parents in the parish.
Margaraet Downey gave a talk on Dovecotes and I think at one stage we even had a headless horse thrown in for good measure.
Liam Burke (principal Whitecross National School) came along and told us what is happening with the new school build. Just in case you didn't know there are 450 pupils attending Whitecross now and there are 10 PREFABS on the school grounds, so the sooner the new building is completed the better.
You will remember the recent bad weather we had ......
"The past week was absolutely miserable. It really brought home the inefficiency of prefab accommodation when pupils, teachers, staff and indeed parents got soaked journeying around the school. We cannot wait for the time when we have an architecturally efficient building!" Liam Burke's School Blog
John & Tom (new owners of the Julianstown Inn) told us that they are hoping to put in a shop, pub, and restaurant. This has to go through the Planning Department so we wish them the best of luck for the future.
Peter Monahan, Eddie Phelan, Emer Dolphin and Nichola Blendell gave us some information on the proposed greenways from Drogheda to Mornington and then Laytown up to Julianstown. This will be a fantastic boost for tourism in the area and will also give residents a safe haven for cycling and walking. I'm sure you have all heard of the Westport to Achill Greenway ......... well we will have our own super walkway ... we just need money to get it started and hopefully Meath Partnership will get its funding soon!
Many thanks to Garda Matt McKenna who spoke at length on what the Gardai are doing to stop robberies and barglaries in the locality and we are working on having Text Alerts available to all the community in the near future. Check our Facebook Page - Meath Crime Prevention - its gives an insight of what the Garda are doing to prevent crime and also to warn us about different things. It's a good idea to check it fairly often as it updated on a daily basis.
Jackie O'Shea then gave us a brilliant talk on all the work that the Julianstown tidy Towns is undertaking. We have 4 Tús workers now giving us a hand on a regular basis. However 3 of them are due to leave us this month. If you've been up to the graveyard you will see that Ciaran has done a wonderful job clearing the ivy from the old church there (We do have permission from the Heritage Council to do this) and as the anti litter league has just started they are all busy picking up litter. You can help by making sure that outside your property is kept litter free and verges and kerbside weed free. As they say every little helps.
We would ask that perhaps you could give an hour of your time to helping with the projects in the Community Garden. Perhaps you could adopt one of the many flower beds and keep it weeded for the growing season, or just generally come along and join in. There are gardening classes on every Wednesday and Saturday and you don't have to be an expert as we have plenty of people on hand to show you what to do. Clare McEnaney is giving these classes.
We are going to have a stall at the next Flea Market in Sage and Stone in April in order to raise funds for the bedding plants that will be needed for the village floral displays, so if you have any unwanted gifts, bric a brac, jewelry, kitchen, vases etc we would be delighted if you could let us have them. Contact Niamh or Jackie about this please.
May we also remind you of the "National Spring Clean Day" Saturday the 5th of April, Meet at Whitecross School 10.00 we will have litter pickers bags and gloves, If you are aware of areas that need attention please help, the litter will be collected and put in the large skip at the school on the day.
We would welcome any input, ideas, suggestions, We are a happy friendly crowd so do come and join us.
We had a question and answer time and then we had the pleasure in asking all the candidates in the local elections to tell us a bit about themselves and what plans they had to put EAST MEATH back on the Map.
Last year we put on a play about The White Horse of Ballygarth and we hope to do the same for Heritage Day in Sonairte, so if you have any acting skills or would just like help with the staging of it, please contact Emer.
We were delighted to have ministers Fergus O'Dowd, Ged Nash, and Peter Fitpatrick present. Fergus who was at a meeting in Dublin very kindly called in on the way back to Drogheda and we presented him with a photograph of Julianstown & Distict Community Association with Alison Harvey of the Irish Hertiage Council at the Irish Planning Awards night in Dublin Castle.
Many thanks to all the Committee Members of Julianstown & District Association for all the work they do in Julianstown and thank you as well to all our neighbours and friends who support our events.
Our Newsletter is doing the rounds at the moment and if you didn't get a copy please contact Niamh on 086 3477283 or get hold of a copy of the Meath Coaster for regular monthly updates on what is happening in our village.
Don't miss the next meeting!
Join Us
We welcome new ideas and value enthusiasm from Julianstown Residents members and volunteers, new and old.