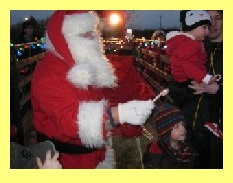 SANTA & MRS. CLAUS ARE COMING TO JULIANSTOWN ON 12th DECEMBER, 2017 @ 6 p.m.
Santa's Helpers were very busy getting ready for his visit to The Lime Kiln in Julianstown and just to let you know they spent the day getting gifts ready for all the little children in the village. The Julianstown & District Community Association were delighted to have won some money at the Pride of Place Awards recently in Slane and have donated these funds so that Santa's Elves can get everything ready for the 12th. The Lime Kiln is providing the venue, as well as their yummy Mince Pies and Mulled Wine for the mums and dads. There will also be a Super Raffle on the night and we hope you will buy lots of tickets and maybe you could win a lovely Hamper! Hope you, your family and friends will come along and join in the festivities.
Mornington Gospel Choir will be on hand to get us in the mood with some lovely Carol Singing and then Santa and Mrs. Claus will arrive, coming down through the village, in a little red vintage tractor which is driven by their Chief Elf called Stephen! Guess where Santas Reindeer will be? Bet you don't know this, but if you call up to Hoey's Barn you will see Dasher, Dancer, Prancer, Vixen, Comet, Cupid, Dunder, Blixem and Rudolph rolling around in the hay and eating lots of lots of carrots (which is why they see so well in the Dark)!
Santas Elves are
Alabaster Snowball
Alabaster is quite a character. Although all elves are highly intelligent, he's the only elf at the North Pole with two university degrees from Trinity College. Friendly and good hearted, he is entrusted with one of the most important jobs. He is the Administrator of the "Naughty or Nice List", so you definitely want to be on his side.
He has developed an elaborate computer system that updates each child's Naughty or Nice rating five times a minute, all year around.
Thanks to Alabaster, Santa has the latest updates on everyone and can adjust the toy production and deliveries right to the last minute. You better be good for goodness sake!
Bushy Evergreen
A skilled engineer and the inventor of Santa's magic toy-making machine. Bushy came from a family that lived in the forest way up North. Like most forest creatures, Bushy became skilled in the art of woodcarving at an early age.
By the time he was a boy of 103, he had carved millions of wooden trains, cars, dinosaurs and other toys. Bushy is now the head Toy Maker for Santa and keeps on developing his famous toy making machine to meet children's endless demand for new toys.
Pepper Minstix
Pepper is the protector of Santa's magic world, and has worked his way up to being Head of Elf Security. He is entrusted with the important job of watching out for the well-being and safety of Santa Claus and Mrs Claus.
He is also in charge of guarding the secret location of Santa's Village and magic workshop. Billions of children, not to mention adults, would love know where it is, so he has his work cut out.
Pepper likes to model his outfits after that of the military and patrols around the Village with a chest full of Elf Medals and a makeshift armour made of kitchen pots and pans. He owns a one-of-a-kind bubble gum firing machine gun and no-one would dare mess with him.
Shinny Upatree
Shinny is the oldest resident of the North Pole Village – even older than Santa. He's no taller than a four year old, skinny and as wrinkled as an old apple. Under his rugged appearance and cranky manners, he has a good heart and is totally devoted to Santa.
Shinny is the leader of the all the Elves and Santa's oldest and most trusted friend. In fact, he co-founded the Magic Workshop with him! Everyone puts up with his moodiness because without the old Shinny Upatree, there wouldn't be a Village, Workshop, Christmas and maybe not even Santa.
Sugarplum Mary
Mary is said to originate from a far away Asian province. She is tiny with dark hair and skin and awfully pretty.
Head of sweet treats, Mary is the most marvellous of cooks and is the top assistant to Mrs. Claus in the kitchen. Our Christmas Elf, Elfin adores her and learned most of his recipes from her.If Santa has ever brought you chocolates and other sweet treats Sugarplum Mary will be behind the original recipe.
She also teaches Kung Fu to the young elves every Friday afternoon.
Wunorse Openslae
One of the few old native Nordic Elves, Wunorse is in his middle years, around 600 years old. Akin to his Viking ancestors he is tall and strong with long blonde hair that he wears in thick braids. He wears dozens of tiny jingle bells sewn onto his clothes, so the enchanting sound of magic Christmas bells follows him everywhere.
In charge of the reindeer, Wunorse is also a true inventor and craftsman, and he always carries with him a pencil and notepad for doodling, sketching and dreaming up new inventions. It was him who long ago created Santa's magic sleigh.