We have a very exciting event planned for Julianstown as we join in with the upcoming National Heritage Week… "Go Wild in the Woods" in Julianstown. This event will be held on Sunday 28th August from 2.30pm in the community woodland at Whitecross, there will be woodland poetry and a talk from renowned local historian Brendan Matthews who will give a short talk about Julianstown's local historical poet Thomas O`Brien.
Thomas O`Brien was from Sarsfieldstown in Julianstown and wrote under the pen name of 'Clontarf', he died in November 1906 at the age of only 54. The Julianstown and District Community Association are organising a commemorative stone to be placed at the woodland in his memory and this will be unveiled on the day.
From 3pm we have a long list of fun family activities there will be children (and parents) activity and quiz sheets, local bird and tree identification challenges, bug hunting, bark rubbing, find a feather, making a bug and hedgehog hotels, wildflower seed bombs and making bird feeding fat-balls.
We plan to finish with a picnic on the green…so don't forget to pack your picnic basket!
All of this will take place in the Julianstown community woodland, so if you have not yet paid a visit to this small but beautiful woodland in the centre of the village now is your chance; entry donation €2 per adult €5 per family with tea/coffee and soft drinks provide. We look forward to seeing you then.
At this event we also hope to launch our "poetry woodland walk" to celebrate a recent woodland poetry competition run with the children at Whitecross National School, it is hoped that the inclusion of the children's poetic works will enhance the visitor's awareness of the peace and beauty of the woodland by having a poetry walk that will inspire people to slow down and ponder at the richness of nature and the gift of trees and to experience them as part of creating culture, through the valuing of their writing and wisdom that their hearts can teach everyone.
JULIANSTOWN IS A MEMBER OF
AN TAISCE
AND AS A RESIDENT YOU ARE INVITED
TO ATTEND ANY EVENT RUN BY
AN TAISCE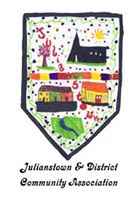 Please find attached details of an event which Bridget McLoughlin, Heritage Officer with Kildare County Council forwarded me, which maybe of interest.
On Sunday 1st of May at 2pm in the Westgrove Hotel, Clane, there will be a very important talk taking place. Mary Colwell is walking 500 miles across Ireland and the UK. Why? To raise the plight of Curlew conservation in Ireland and the UK. Curlew are rapidly disappearing as a breeding species in Ireland and the UK, and are currently on the brink of extinction. Mary is championing the Curlew and trying to raise awareness and funds for their conservation. Come along to hear Mary energetically explain her story and what can be done to save the Curlew.



After Mary's talk, we will have an outing to Lodge Bog, Lullymore, Rathangan in the hopes of seeing and/or hearing some of the last remaining pairs of Curlew breeding in Kildare (and Ireland!). You can't miss this! See the links below for further details.
http://www.crowdfunder.co.uk/the-curlew-walk
https://www.facebook.com/events/204314836619483/
Curlews were once described as abundant breeders in Co Kildare. Sadly in last year's survey we found only 8 pairs attempting to breed in the whole of the county (all on bogs) and this figure will more than likely decrease even further this year. So please if you have a few hours to spare come and listen to this truly remarkable woman and possibly see what could be one of the last few remaining pairs of this iconic bird unless something drastic is done to save them.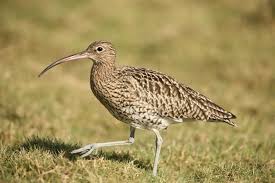 --
The Meath association have organised a visit to Nurney Organic Farm, Carbury, Co. Kildare (near Enfield) as part of Biodiversity Week 2016 for which we received a grant from the Irish Environmental Network.
We will meet at the farm at 11 am on Saturday 14th May courtesy of Deirdre O'Sullivan and Norman Kenny for a guided tour where we can view the large range of organic vegetable and soft fruit they grow organically. They also produce their own electricity and their vehicles use vegetable oil.
The event is free as the Irish Environmental and will end early afternoon which allows enough time for those proceeding to the CREDO May concert at Higginsbrook to thoroughly enjoy both events.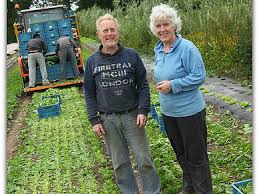 www.antaisce.org
The History of Julianstown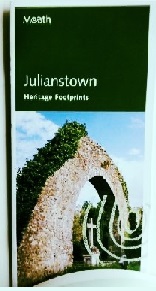 Launch of Heritage Booklet
Gavin Duffy from Dragons Den Launching Julianstown Heritage Booklet, designed by the wonderful Heritage Sub-Group, in the City North Hotel, Thursday 3rd May 2012. Thank you to all who came to support us and also a big thank you the City North Hotel who looked after us so well.
We would like to say thank you to Meath Partnership, for our funding and to everyone who attended our poker classic evening for our matching funding.
Photographs taken by Kevin Finger of Balbriggan Photographic Society.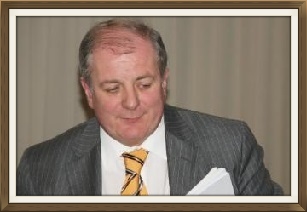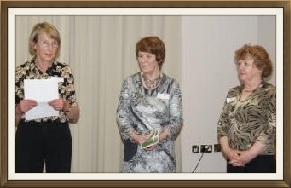 Heritage Sub Group: Eileen Mc Cullagh, Margaret Downey and Anne Flynn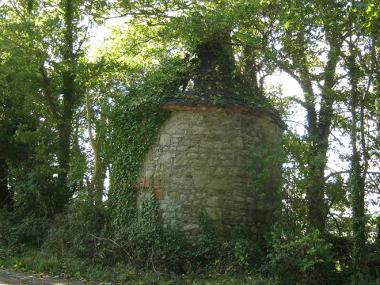 The traditional view is that dovecotes were introduced by the Normans in the 12th century. The Ballygarth Dovecote appears to be a late 18th or early 19th century structure. Dovecotes were once scattered throughout the countryside especially in Europe. The Dovecote was used as housing for doves or pigeons, who were reared on estates and usually ended up on the landowner's dinner table. The eggs and droppings were used as fertilizer. Pigeons were fed by eating the neighbouring crops and this resulted in many crops being destroyed. To control the damage caused by the pigeons, laws were introduced that restricted the number of birds that could be kept in a flock. In England and possibly it was the same in Ireland the privilege of owning a dovecote was only conferred upon the lord of a manor.
Swiss Cottages Julianstown

Julianstown village was owned by the Pepper family of Ballygarth Castle.
The Swiss Cottages, a series of six attractive cottages in the main street were said to be based on a design that Major Charles Pepper saw in Switzerland. They were built by him in 1897 for his workers.
The Drogeda Independent 11th June 1887 states that the National League convened a meeting in Stamullen and called on the Drogheda National Guardians (precursors of Drogheda Co. Council) to reconsider their decision as to Major Peppers proposition –viz. The building of cottages with their fronts facing away from the public road. "If such a proposition is carried into effect, the majority of labourers will refuse to inhabit such houses. We further say that as these cottages will not be given to men as pauper's dole or charity but will be paid for honestly, it is only just and proper that they should have a voice in the matter". The decision was eventually overturned and the cottages were built facing the road.
As Major Pepper had numerous cottages built both in Julianstown and Stamullen, we cannot be certain that the above mentioned cottages facing the public road are the ones in question.
Nevertheless it shows the power of the Irish National League over landlords.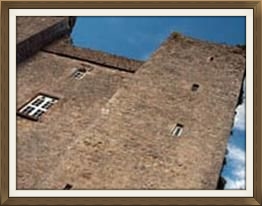 Dardistown Castle is an excellent example of a large fifteenth Century Manor House. It was built around1465, when grants in return for military service were made available landowners for building fortified houses in the pale.
The castle is a fortress-like structure, square in shape with each side of the building 44ft. long with a quadrangular turret at each corner. Many of the rooms have barrel vaulted ceilings.
Dardistown Castle is open to the public and tours can be accomodated.
Opening times Thursday and Saturday 10am -2pm. Its is advisable to check as it is closed for a couple of months of the year.
Julianstown Courthouse and Garda Barracks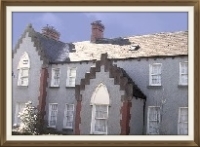 The last case to be tried in the Courthouse involved a gun-running operation in the Phoenix Park. The men involved were from Meath hence the trial in Julianstown.
Later the Courthouse became a dispensary which has since relocated to Laytown. The Courthouse became a private home. It is a protected structure of Julianstown.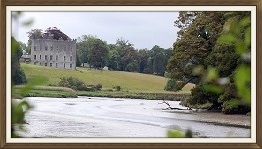 Ballygarth Castle was constructed over a number of separate building phases. The original three-storey tower house has been enlarged over the years, with a line of crenellations and Gothic details added to the windows. On the eve of Oliver Cromwell's attack on Drogheda in 1649, his army camped on the lawns of the castle. The legend of 'The White Horse of the Peppers' has been immortalised in story and later in a play by Samuel Lover, which tells of how the confiscated castle and lands were recovered largely through the saga of a white horse belonging to Ballygarth Castle. A white horse was always kept on the estate as a symbol of their gratitude.
Ballygarth estate is reputed to be the last place in Ireland where oxen were used for ploughing up to 1907. An ox-collar (Harness) made by Thomas Oonan of Julianstown is preserved in the National Museum of Ireland.